If you're going to San Francisco. Be sure to meet with Appdome at Oracle OpenWorld. 🙂
You can find us at booth 3400.
Learn all about Appdome for Oracle Mobile Apps and other important features that will make it easier for you to implement your enterprise authentication and mobility management strategy.
Top Reasons to See Appdome at Oracle OpenWorld
Learn Why Appdome is an Oracle Validated Integration
Earlier this week, we proudly announced that Appdome for Enterprise Mobility is a Validated Integration for Oracle E-Business Suite 12.2.
In the press release, David Hicks, Oracle vice president Worldwide ISV, OEM and Java Business Development Oracle, says that "Achieving Oracle Validated Integration gives our customers the confidence that integration between Appdome for Enterprise Mobility and Oracle E-Business Suite mobile apps is functionally sound and performs as tested."
Oracle also published a data sheet on our Validated Integration in which it says that "Appdome for Enterprise Mobility enables Oracle E-Business Suite customers and partners to implement their choice of enterprise authentication and mobility management features (SDKs) into any Oracle E-Business Suite mobile app."
Meet with the Appdome Team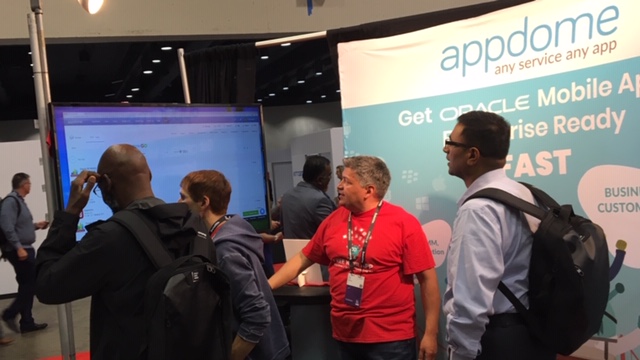 Our mobile developers, technical staff and management team will be on hand to answer all your questions.
Get Cool Chotskies and Win Awesome Prizes
Appdome stickers are always a huge draw at any of our events. People love our "little guys." Make sure to find the one matching your personality. There is the developer (the little one on the left), then we also have our IT persona and the marketing/sales persona. And don't forget to take your Professor Fusion sticker. If you are a fan of Appdome, Professor Fusion belongs in your sticker collection. And don't feel bad if you want to grab one of each for your kids. (Please note that we're not responsible if they end up on the windows of your car).
We're also giving away cool "Free Your Apps" t-shirts.
And for the big prize, you can enter to win a custom TIMBUK2 messenger bag or OGIO backpack. The TIMBUK2 messenger bag is a San Francisco tech favorite. It is the perfect companion for the frequent flyer.
Support San Francisco's Green Initiative
As you may know, San Francisco recently banned plastic straws. We think that is a great idea and we fully support this. So come by our booth (#3400) and pick up your stainless steel drinking straw. They were super popular when we offered them at Dreamforce.
See You This Week in San Francisco
Join Appdome at Oracle OpenWorld.
Stop by our booth 3400.
Learn more about our Oracle Validated Integration.
Pick up some cool stickers.
Ask questions, we're ready to help.