Appdome is proud to sponsor Collaborate19!
Oracle customers will see the full power of Appdome at Collaborate19, the annual OAUG conference. This Oracle Applications User Group conference is the largest meeting of Oracle customers organized by the user community.
Appdome, an Oracle Validated Integration for Enterprise Mobility
It was only 6 months ago that we announced that Appdome for Enterprise Mobility is a Validated Integration for Oracle E-Business Suite 12.2.
 "Achieving Oracle Validated Integration gives our customers the confidence that integration between Appdome for Enterprise Mobility and Oracle E-Business Suite mobile apps is functionally sound and performs as tested."

— David Hicks, Oracle vice president Worldwide ISV, OEM and Java Business Development Oracle, said that
Meet Appdome at Collaborate19 – Booth 843 K6
At Collaborate19, OAUG members can learn how easy it is to implement their choice of enterprise authentication and mobility management services (SDKs) into any Oracle E-Business Suite mobile app.
Visit Appdome at Collaborate19 and see how you get:
INSTANT implementation of any EMM or MAM;
EASY Enterprise SSO for you Oracle mobile apps;
PROTECTION for your Oracle Mobile apps and more.
All without coding a single thing. Appdome's no-code mobile app enhancement platform allows anyone to add any service to any app in seconds. With Appdome, organizations can avoid the manual and laborious work of coding SDKs to mobile apps.
Using Appdome is simple. Upload an app binary (.apk or .ipa). Select the service(s) needed in the app. And click "Build My App." Appdome uses a proprietary AI-Mobile Integration coding engine to handle the rest. As a result and no matter how the app was built, Appdome ensures that the SDK is quickly and efficiently added to all native, hybrid and non-native apps. Appdome also works with apps developed in the Oracle Mobile Application Framework.
Appdome is 100% compatible with all Android and iOS apps. Appdome-Fused apps can be deployed through any public or private app store.
What to Look for From Appdome at Collaborate19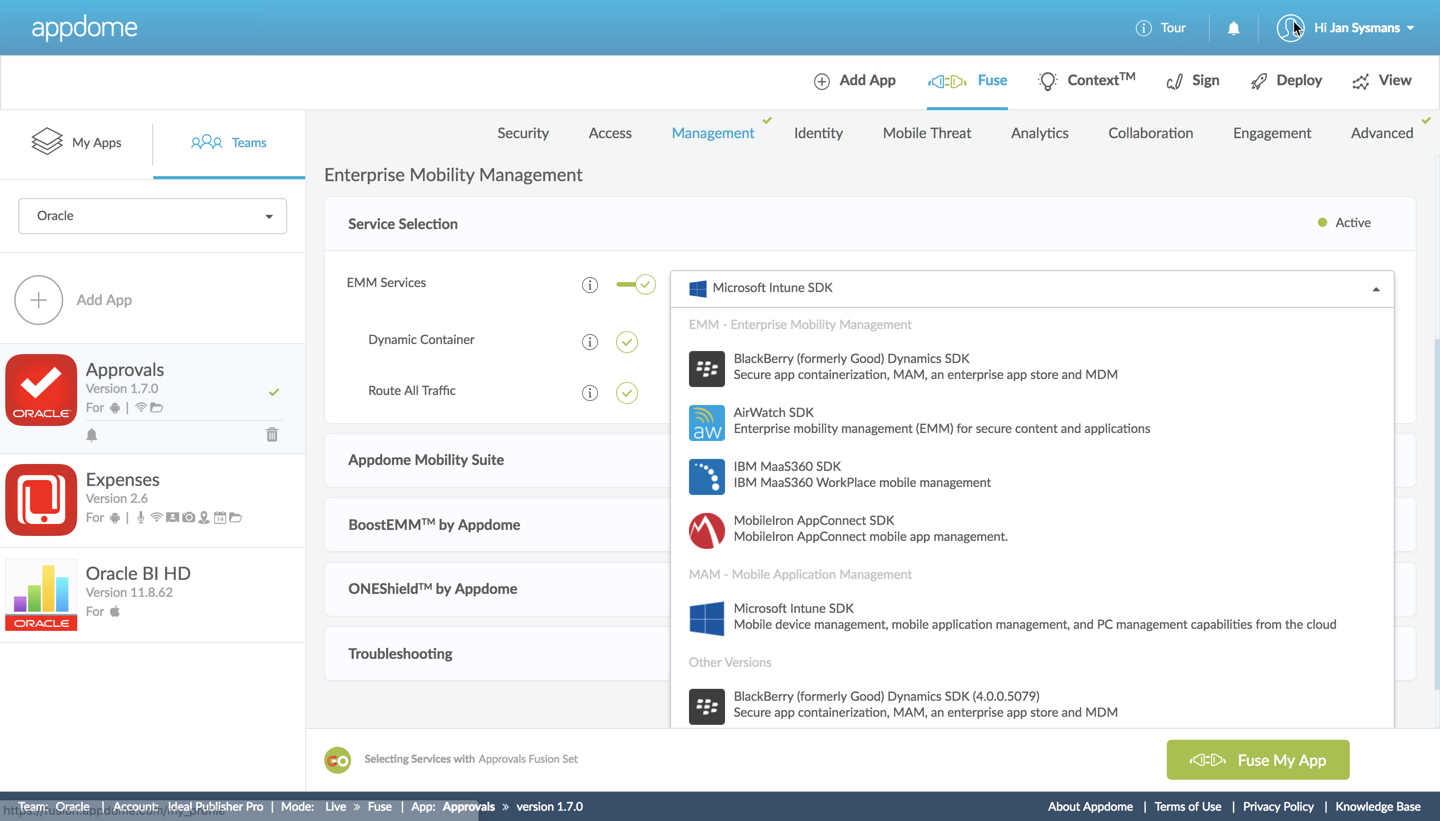 With Appdome for Enterprise Mobility Oracle customers and partners can add any EMM and MAM service to any Oracle mobile app. Therefore, organizations have full control over their mobility strategy. Thus, they choose how and what features are added to each app and control the user experience. To this end, Appdome for Enterprise Mobility supports all leading vendors. Specifically Microsoft Intune, IBM MaaS360, AirWatch, MobileIron, and BlackBerry Dynamics.  As a result, integrating EMM and MAM services to Oracle mobile apps takes seconds and does not require any code or coding inside the app.
The Appdome for SSO+ solutions lets OAUG members integrate any Single Sign-On (SSO) service to their Android and iOS mobile apps. Appdome works seamlessly with on-premises enterprise authentication solutions like Microsoft Active Directory (AD) and ADFS. And Appdome works in the same way with modern cloud identity service. For example Microsoft Azure AD, Okta Identity Cloud, Ping Identity, and  F5 Access Policy Manager.
And finally, with the Appdome Mobile Security Suite, customers can add TOTALData Encryption, TOTALCode Obfuscation, ONEShield app hardening, and more to their mobile apps
Get Your Oracle Mobile Apps Enterprise Ready
Find Appdome at Collaborate19 in booth 843 K6 and see first-hand how you can add enterprise authentication and mobility management to Oracle Mobile Apps.
A demo takes only a few minutes.
Collaborate19 is at the San Antonio Convention Center from April 7-11. Come check us out and get some cool stickers for your laptop.
And if you can't make it to San Antonio, you can add enterprise authentication and mobility management services to your Oracle mobile apps today. Download our Appdome for Oracle Mobile Apps datasheet for more information.
Create your Appdome account today and start making your Oracle mobile apps enterprise-ready.