How to View Dev Activity Logs for Secured Android & iOS Apps
You can view view dev Activity logs for Secured Android & iOS Apps, including app builds, installs, downloads, and signings statistics on Appdome.
This Knowledge Base article provides instructions and a demonstration for monitoring your secured apps.
We hope you find this knowledge base useful and enjoy using Appdome!
How to View Dev Activity Logs for Secured Android & iOS Apps
Appdome provides the ability to view the progress in the deployment of an app, from app build to mobile device installations.
Using Appdome, there are no development or coding prerequisites. For example, there is no Appdome SDK, libraries, or plug-ins to implement. The Appdome technology adds features and relevant standards, frameworks and more to the app automatically, with no manual development work at all.
Appdome is a no-code mobile app security platform designed to add security features to Android & iOS apps. Appdome's no-code mobile app security platform offers mobile developers, DevSec and security professionals a convenient and reliable way to protect Android and iOS apps without coding. When a user clicks "Build My App," Appdome leverages a microservice architecture filled with 1000s of security plugins, and an adaptive code generation engine that matches the correct required plugins to the development environment, frameworks, and methods in each app.
Prerequisites for Viewing Apps
In order to view your app progress, you'll need:
How to Monitor App Usage on the Appdome Platform
Follow these instructions to view your app deployment progress:
Upload a Mobile App to Your Account
Please follow these steps to add mobile apps to your Appdome account.
If you don't have an Appdome account, click here to create an account.
Build Your App
After your app is uploaded to Appdome, you are ready to make your Fusion selections from the Build section of the workflow (located in the upper right section of your screen).
You can read more about Fusing your app here.
Add Context™ to the Appdome-Built (Fused) App
Appdome is a full-featured mobile integration platform. Within Context™, Appdome users can brand the app, including adding a favicon to denote the new service added to the app.
For more information on the range of options available in Context™, please read this knowledge base article.
Sign the Appdome-Built (Fused) App (Required)
In order to deploy an Appdome-Fused app, it must be signed.  Signing an iOS app and Signing an Android app is easy using Appdome.  Alternatively, you can use Private Signing, download your unsigned app and sign locally using your own signing methods.
Deploy the Appdome-Built (Fused) App to a Mobile Device
Once you have signed your Appdome-Fused app, you can download to deploy it using your distribution method of choice. For more information on deploying your Appdome-Fused apps, please read this knowledge base.
3 Easy Steps to View Dev Activity Logs for Secured Android & iOS Apps
Once your app is deployed, you can monitor usages and installation of that app
Click on the "View" tab on the upper right part of the screen.
You can view your App Usage Statistics – Amount of Fusions, Downloads, App Signings, and App Installs, over time.
You can also view Recent Activity for this app, meaning all Appdome workflow actions that took place during the creation and deployment of this app.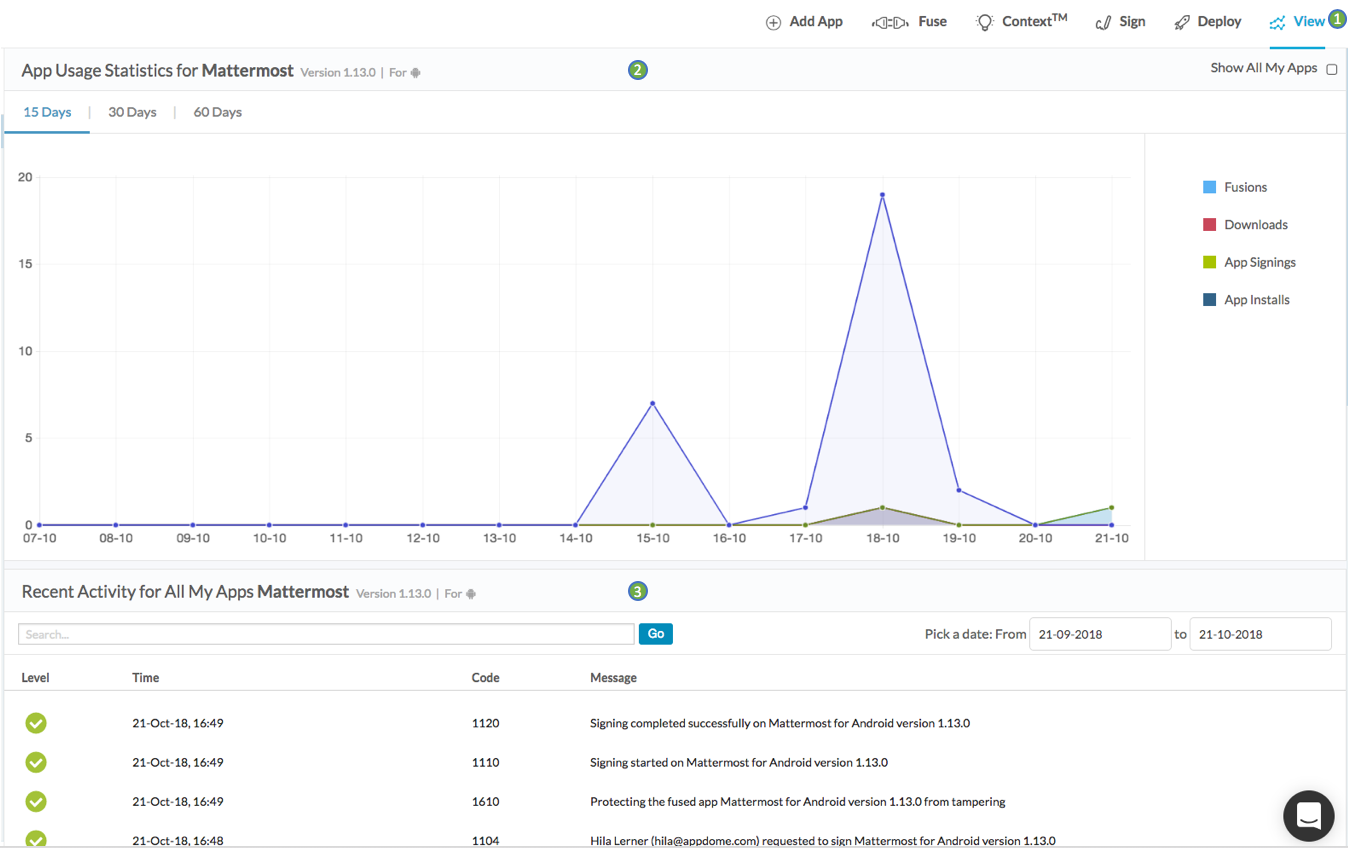 Congratulations! You can now see all of your App Usage Statistics.
How Do I Learn More?
Check out Appdome Platform datasheet or request a demo at any time.
If you have any questions, please send them our way at support@appdome.com or via the chat window on the Appdome platform.
To zoom out on this topic, visit the Appdome platform page on our website.
Thank you!
Thanks for visiting Appdome! Our mission is to make mobile integration easy. We hope we're living up to the mission with your project. If you don't already have an account, you can sign up for free.