How to Require Lookout Malware Protection in Mobile apps
How to use "Require Security Services" to validate if Lookout Mobile is active:
Require Security Services is an Android feature that validates Lookout Mobile Security is installed and actively detecting threats on the mobile device. This Knowledge Base article explains how to enable the "Require Security Services" feature inside any mobile app to protect the app and the mobile device from harmful content and mobile risks.
Lookout Mobile Security is an anti-malware app for smartphones and tablets. The Android version scans apps and files for viruses and spyware, protects against Web-based threats during browsing, and lets users control which apps can access their personal data.
We hope you find it useful and enjoy using Appdome!
Appdome is a no-code mobile security and mobile integration platform that allows users to add security features, like RASP, code obfuscation, data encryption and more, as well as mobile threat, mobile fraud, anti-bot and other SDKs and APIs to Android and iOS apps. This KB describes how to use Appdome's simple 'click to build' user interface to quickly and easily build Require Security Services to any mobile app – instantly, without coding.
Using Appdome, there are no development or coding requirements. For example, there is no Appdome SDK, libraries, or plug-ins to implement. When select your desired features/services and click "Build My App", the Appdome platform adds the "Require Security Services" feature and relevant standards, frameworks and more to the app automatically, with no manual development work at all.
When Appdome's "Require Security Services" feature is integrated into a mobile app, Appdome will check whether Android Lookout App is installed on the Android device and activated. If the Lookout Mobile Security isn't installed, the app will not run. Instead, the app will display a customizable In-app message to the user before it safely exits.
The Android App Bundle lets you more easily deliver a great experience in smaller app size, by creating "splits", allowing the play store the ability to tailor fit the app to the phone it's being installed on, Downloading only the relevant resources.
How to Add "Require Security Services" to any mobile app
Follow these step-by-step instructions to add the "Require Security Services" feature to Any Mobile App:
Upload a Mobile App to Your Account
Please follow these steps to add a mobile app to your Appdome account.
Please follow these steps to upload a mobile app to your Appdome account.
In a few seconds, your upload will be completed. The app will be added to your App Library.
If you don't have an Appdome account, click here to create an account.
Select the Build Tab.
Beneath the Build Tab, you will find several service options. Select Security. 

Expend OS integrity category
Click on the toggle to enable Require Security Services
Configure a message under App Compromise Notification (optional)
Enable

Threat Events

to configure this security alert on your app. (optional)
Click Build My App

The technology behind Build My App has two major elements – (1) a microservice architecture filled with 1000s of code sets needed for mobile integrations, and (2) an adaptive code generation engine that can recognize the development environment, frameworks and methods in each app and match the app to the relevant code-sets needed to add Require Security Services protection to the mobile app in seconds.
Congratulations! You now have a mobile app fully integrated with "Require Security Services" protection enabled.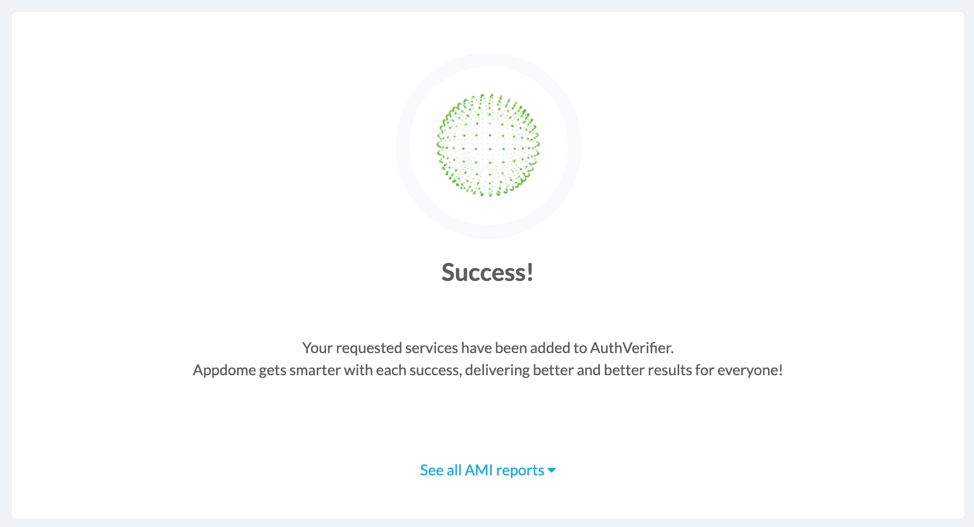 What to do After I Build My App?
After you successfully built an app, you need to sign the app in order to deploy it. You can also brand or customize a built app on Appdome.
Sign your Appdome Built AAB app (Required)
In order to deploy an Appdome-Built AAB app, it must be signed. Appdome allows you to choose from the following options:
For more information on how to upload your signing credentials to Google and enroll your AAB app please review this knowledge base article.
Prerequisites for Using Require Security Services
How Do I Learn More?
For more information visit Appdome's collateral library. or request a demo at any time.
To zoom out on this topic, visit  Appdome for Mobile App Security on our website.
If you have any questions, please send them our way at support@appdome.com or via the chat window on the Appdome platform.
Thank you!
Thanks for visiting Appdome! Our mission is to make mobile integration easy. We hope we're living up to the mission with your project. If you don't already have an account, you can sign up for free.