This Knowledge Base article lists 3 Easy Steps to Use Checksum Validation to Prevent Unauthorized changes to iOS and Android apps. No Code, Zero Dev, No SDK.
Any mobile application passes two major stages on its way to a mobile device: 1) a developer builds it, and then it 2) gets uploaded to a mobile store from which it gets installed on the user's device. But there's a problem here, how does the application's author/owner know that the application that is installed on the user's device is the same application that left her build-system? In other words, how does a developer prevent code injections & flow changes in their mobile apps. One of the methods to ensure no modifications occur is for the application to verify its own integrity using checksum validation. A checksum is a unique identifier that reflects the composition of the application (code, data, assets, etc..).
Using Appdome, there are no development or coding prerequisites. For example, there is no Appdome SDK, libraries, or plug-ins to implement. The Appdome technology adds Checksum Validation and relevant standards, frameworks and more to the app automatically, with no manual development work at all. Using Appdome, Checksum Validation will run on the application to validate its integrity.
Overview of Checksum Validation
Checksum Validation is a technique used in the security industry to calculate a unique fingerprint of information, binary data, and assets. By creating checksums, and validating them at run-time, Appdome prevents changes to your app, its resources, code, configuration and more.
Checksum Validation is a built-in part of the Appdome Mobile Security Suite, falls under ONEShield by Appdome.
Appdome's security features are only added to a mobile app by choice. When you build an app, Appdome generates a checksum of your app and the fusion code to ensure integrity. The checksum is encrypted and embedded into the final, built app. Furthermore, this checksum is calculated and used as an encryption key for the built app, to apply a "seal" to the app.
This process is called "checksum validation and sealing". When a built app runs, an integrity check is performed to ensure that there is no mismatch in the checksum.  If there is a difference, the app will exit. For more information on checksum validation check out our blog. Also, to learn how app shielding can be used to thwart mobile malware, check out this blog.
3 Easy Steps to Prevent Code Injection & Flow Changes in Mobile Apps
Follow these step-by-step instructions to prevent code injection & flow changes by adding Checksum Validation to any mobile app:
Upload an Android or iOS App to Appdome's no code security platform (.apk, .aab, or .ipa)
In the Build Tab, under Security, Select ONEShield 

(shown below)

Click Build My App
Checksum Validation is added automatically to every secured mobile app as part of the ONEShield™ bundle.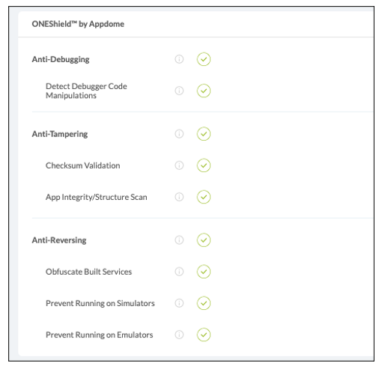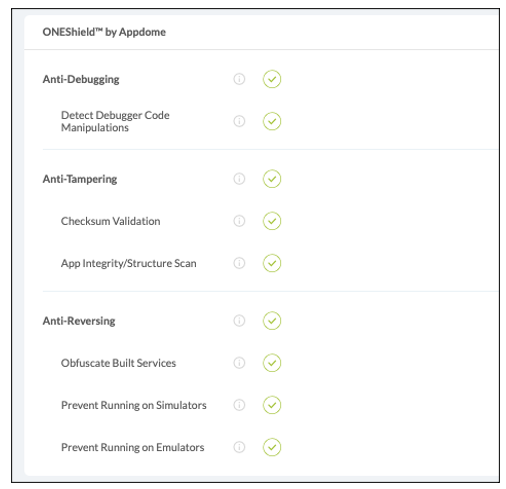 Congratulations! You now have a mobile app fully built with Checksum Validation.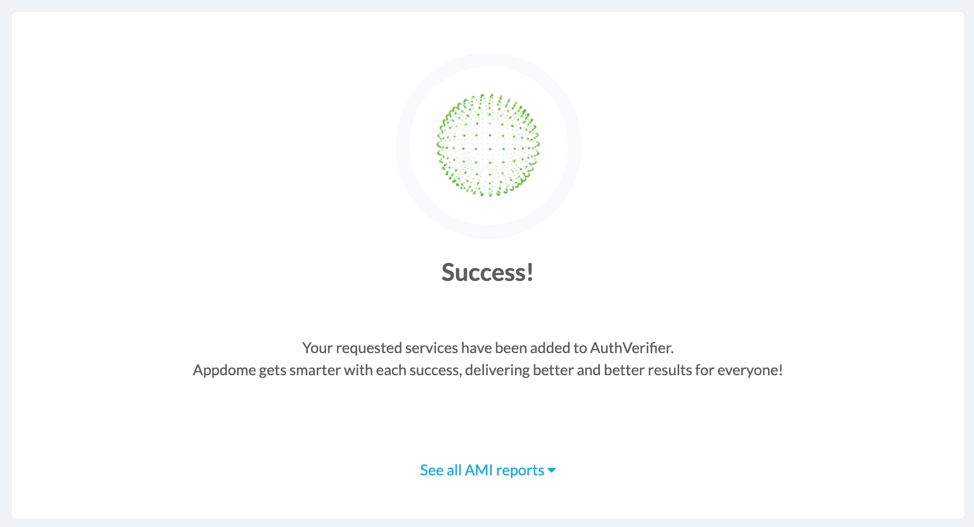 Appdome's no-code mobile app security platform offers mobile developers, DevSec and security professionals a convenient and reliable way to protect Android and iOS apps with Checksum Validation. When a user clicks "Build My App," Appdome leverages a microservice architecture filled with 1000s of security plugins, and an adaptive code generation engine that matches the correct required plugins to the development environment, frameworks, and methods in each app.
Prerequisites for adding Checksum Validation
Here's what you need to build secured apps with Checksum Validation
No Coding Dependency
Using Appdome, there are no development or coding prerequisites to build secured apps with
Checksum Validation
. There is no SDK and no library to manually code or implement in the app. The Appdome technology adds
checksum validation
and the relevant standards, frameworks, and logic to the app automatically, with no manual development work at all.
How to Sign & Publish 
Secured 
Mobile Apps Built on 
Appdome
After successfully securing your app using Appdome, there are several available options to complete your project, depending on your app lifecycle or workflow. These include:  
Or, see this quick reference Releasing Secured Android & iOS Apps built on Appdome. 
More No-Code Prevent
Prevent Code Injection & Flow Changes

Resources
For more information on Appdome Mobile Security Suite please visit this resource. 
To zoom out on this topic, visit  Appdome for  Mobile App Security on our website.
Thank you!
Thanks for visiting Appdome! Our mission is to make mobile app security easy. We hope we're living up to the mission with your project. If you don't already have an account, you can sign up for free.