Add BlackBerry Dynamics SDK to any mobile app without coding
BlackBerry Dynamics is a widely used MDM and BYOD use case in the corporate world. Many companies are using it to manage their Apps and devices within their organization.
This Knowledge Base explains how you can use Appdome to achieve no-code integration of the BlackBerry Dynamics SDK into mobile apps in seconds and thereafter, manage any mobile App using BlackBerry Dynamics.
About Implementing the BlackBerry Dynamics SDK into Mobile Apps
Appdome's technology adds the full BlackBerry Dynamics SDK into mobile apps, as well as standards, methods or protocols necessary, to mobile apps automatically. After using Appdome, mobile Apps will leverage the BlackBerry Dynamics SDK capabilities as if they were natively coded into the app.
Appdome is a mobile integration platform as a service (iPaaS) that allows users to add a wide variety of features, SDKs, and APIs to Android and iOS Apps. Using a simple 'click to add' user interface, Appdome allows anyone to easily implement the BlackBerry Dynamics SDK into mobile Apps – instantly, no code or coding required.
Using Appdome, there are no development or coding prerequisites. For example, there is no Appdome SDK, libraries, or plug-ins to implement. The iOS (.ipa) or Android (.apk or .aab) App can be built in any development environment such as xCode for iOS and Android Studio, or non-native environments like Xamarin, Cordova, and React Native. Likewise, there is no requirement to implement any part of the BlackBerry Dynamics SDK or even have access to source code for developing BlackBerry Dynamics SDK capabilities for Android or iOS Apps.
Appdome for BlackBerry Dynamics is one of the premier solutions available on Appdome. Using Appdome to Build your apps with the BlackBerry Dynamics SDK into mobile Apps is simple and fast. Once Building is complete, you can deploy the Built App via BlackBerry UEM or Good Control and install the Built app on mobile devices via BlackBerry Dynamics. All data created within the App will be encrypted and protected inside a container, preventing other applications from accessing the App's data. This allows you to enjoy all of the features the BlackBerry Dynamics SDK offers as well as the additional security of Appdome Mobility Suite and BoostEMMTMby Appdome.
Prerequisites for Using Appdome for BlackBerry Dynamics SDK
In order to use Appdome's no-code implementation of  BlackBerry Dynamics on Appdome, you'll need:
Appdome account. – IDEAL or higher
Mobile App (.ipa for iOS, or .apk or .aab for Android).
You have a configured and accessible account for BlackBerry Dynamics Console
App Delegation requirements for iOS 13
The Blackberry Dynamics Profile assigned to the user account must have UEM Client as the first app in the App authentication delegation.
Please make sure the fused app is configured with the iOS app package ID in the iOS tab and ensure once the app settings are saved, you see an iOS icon in the OS column.
Easy Activation requires UEM 12.11 MR1 as explained in these Blackberry UEM 12.11 MR1 Release Notes.
How to Add Blackberry Dynamics SDK into Mobile Apps Using Appdome
To Build your App with the BlackBerry Dynamics SDK, follow these simple steps.  Note, the same workflow can be used for either an Android or iOS App.
Upload a Mobile App to Your Account
Please follow these steps to add a mobile app to your Appdome account.
Once you find the .ipa or .apk or .aab file you intend to use, simply select it. The file will be automatically added to the Appdome platform.  Once complete, you'll see a success message and automatically moved to the next step in the workflow.
Integrate with BlackBerry Dynamics
 SDK
Click Management under the Build tab. Note: a blue highlight will appear showing the category is active.
Then, find EMM Services under the Enterprise Mobility Management heading.
Enable or turn "ON" EMM Services and open the drop-down list.
Next, choose BlackBerry Dynamic SDK from the drop-down list.
Change the App Bundle ID (optional).
Change the App Version (optional).
Verify the GD App ID and GD App Version – BlackBerry has restrictive policies for uploading apps to Good Control. It must have a unique App ID that follows BlackBerry's regulations.  Here you can verify and modify the GD App ID and the GD App Version to match the requirements. By default, the GD App ID matches the app's bundle ID.
Configure your App with Additional Features (optional)
If you'd like or need additional control over the BlackBerry Dynamics SDK implementation or need to configure the implementation in your App, please take a look at the following knowledge base articles:
Appdome Mobility Suite – provides detailed, gradual control over the BlackBerry Dynamics SDK implementation.
BoostEMMTM – allows developers and mobility professionals to connect the App to BlackBerry Dynamics browsers, email clients, etc.
MicroVPN – provides secure, mobile enterprise connectivity for any mobile App (connecting to enterprise SSL, VPN, and Proxies).
Each of these features should be added to your selections before you click Start Building. That way, sections in these categories are included in the automated integration completed on Appdome.
Build your App with BlackBerry Dynamics SDK
Click "Build" to complete Appdome's BlackBerry Dynamics SDK integration to the App.
The technology behind Build My App has two major elements – (1) a microservice architecture filled with 1000s of code sets needed for mobile integrations, and (2) an adaptive code generation engine that can recognize the development environment, frameworks and methods in each App and match the App to the relevant code-sets needed to add the BlackBerry Dynamics SDK into mobile Apps in seconds.
Congratulations! When your implementation is complete, you'll see the notice below. You now have a mobile App fully integrated with BlackBerry Dynamics SDK!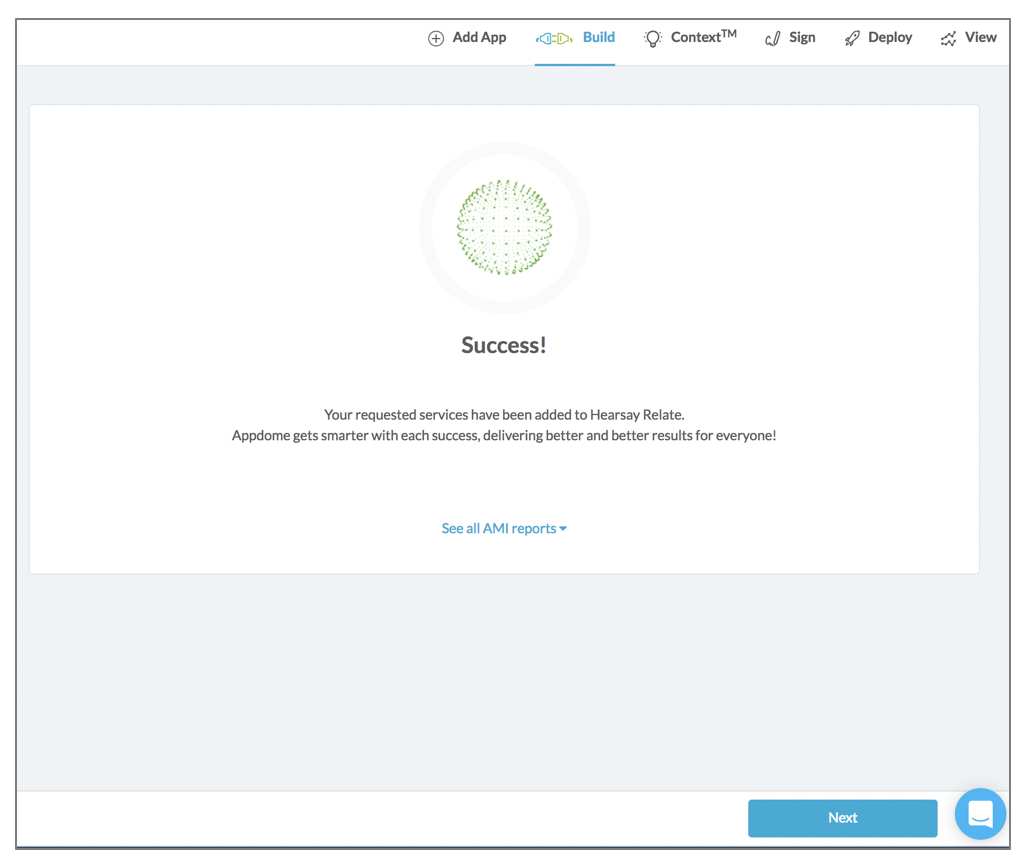 Add Context™ to the Appdome Built App
Appdome is a full-featured mobile integration platform. Within Context™, Appdome users can brand the app, including adding a favicon to denote the new service added to the app.
Read here for more on Customize Mobile App Branding and More Without Coding.
Sign the BlackBerry Dynamics SDK Appdome Built App (Required)
In order to deploy an Appdome Built app, it must be signed. Signing iOS apps and Signing Android apps are easy using Appdome. Alternatively, you can use Private Signing, download your unsigned app and sign locally using your own signing methods.
Deploy the Appdome Built App to a Mobile Device
Once you have signed your Appdome Built App, you can download the App and deploy it using your distribution method of choice.
Read here on how to Deploy Mobile Apps Integrated with the BlackBerry SDK to BlackBerry Control (Good Control).
How Do I Learn More?
Read here for more information on No-Code BlackBerry Dynamics Integration to Mobile Apps and Deploying Apps on Appdome.
Please view this Building app(s) with the BlackBerry SDK end to end video.
To deploy the app using BlackBerry UEM, please follow the steps outlined in the article Deploying Apps Built with the BlackBerry Dynamics EMM SDK to UEM
To zoom out on this topic, visit  Appdome for Enterprise Mobility on our website.
If you have any questions, please send them our way at support@appdome.com or via the chat window on the Appdome platform.
Thank you!
Thanks for visiting Appdome! Our mission is to make mobile integration easy. We hope we're living up to the mission with your project. If you don't already have an account, you can sign up for free.