BlackBerry Dynamics is a widely used MDM and BYOD use case in the corporate world. BlackBerry Launcher allows you to organize your Apps, widgets and shortcuts on customized home screen panels for instant access.
This Knowledge Base article provides step-by-step instructions for adding Appdome-Fused App to BlackBerry Launcher.
About BlackBerry Dynamics SDK implementation
Appdome is a mobile integration platform as a service (iPaaS) that allows users to add a wide variety of features, SDKs and APIs to Android and iOS Apps. Using a simple 'click to add' user interface, Appdome allows anyone to easily implement the BlackBerry Dynamics SDK to any mobile App – instantly, no code or coding required.
Using Appdome, there are no development or coding prerequisites. For example, there is no Appdome SDK, libraries, or plug-ins to implement. The iOS (.ipa) or Android (.apk) App can be built in any development environment such as xCode for iOS and Android Studio, or non-native environments like Xamarin, Cordova, and React Native. Likewise, there is no requirement to implement any part of the BlackBerry Dynamics SDK or even have access to source code for developing BlackBerry Dynamics SDK capabilities for Android or iOS Apps.
Appdome's technology adds the full BlackBerry Dynamics SDK, as well as standards, methods or protocols necessary, to mobile Apps automatically. After using Appdome, mobile Apps will leverage the BlackBerry Dynamics SDK capabilities as if they were natively coded into the App.
Prerequisites for Adding Apps to BlackBerry Launcher 
In order to add App to BlackBerry Launcher you'll need:
You have a configured and accessible account for BlackBerry Dynamics Console
How to Add your Fused Apps to the BlackBerry Launcher
Login to BlackBerry UEM environment
Enter the Apps pane and add (upload) Appdome-fused App

Upload the Fused App as an Internal BlackBerry Dynamics app entitlements

Choose a BlackBerry Dynamics App from your app list in BlackBerry.

Select the BlackBerry entitlement version for the App

Expand the Launchable service and check it.
Then click Save.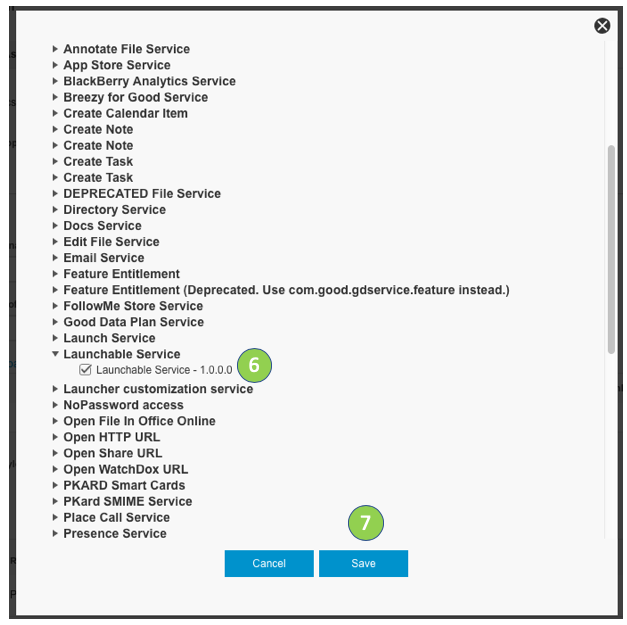 That's it –  Now you can install Appdome-Fused App on your device and launch it using BlackBerry Launcher.
How Do I Learn More?
To zoom out on this topic, visit Appdome for No-Code BlackBerry Dynamics Integration to Mobile Apps and Deploying Apps on Appdome.
Read here for impormation on Fusing an App with BlackBerry SDK and BlackBerry Launcher 
To deploy the app using BlackBerry UEM, please follow the steps  in the article Deploying Apps Fused with the BlackBerry Dynamics EMM SDK to UEM
If you have any questions, please send them our way at support@appdome.com or via the chat window on the Appdome platform.
Thank you!
Thanks for visiting Appdome! Our mission is to make mobile integration easy. We hope we're living up to the mission with your project. If you don't already have an account, you can sign up for free.