Customize App Configuration On Appdome
Customizing app behavior on many commercial apps can be achieved by editing XML/Info.plist or other configuration files. Apps have the ability to show different UI options according to the configuration resources.
This Knowledge Base article provides step-by-step instructions for using Appdome for customizing any Android and iOS mobile app.
We hope you find this knowledge base useful and enjoy using Appdome!
No Code App Configuration
Private URL – Many apps require the user to enter a URL to a server that the app needs to connect to. Many times, this is a long URL which is a big inconvenience to the user and is prone to errors as a result of mis-spellings.  Some commercial apps allow editing of configuration files to avoid this problem.  Appdome allows you to define one key/value pair as the Private URL.  If the App doesn't support this kind of configuration, Appdome can pre-copy the URL to the clipboard on the first launch of the App, so the user can just paste it in.
Custom Config. Files – Appdome has the ability to easily add files to apps. In Android apps, the files are added to the assets folder. In iOS apps, the files are added to the main directory of the app (Payload/MyCoolApp.app/). Sometimes app developers will have the app customization options in a separate file, so this is a convenient mechanism for adding these files. Furthermore, this feature allows you to modify and replace an existing configuration file within the application. For example, modify the Fiori client URL in SAP Fiori app.
Custom Values – This feature is similar to the "Private URL" mentioned above, it allows you to add multiple key/value pairs to the XML files/Info.plist.  It doesn't have the copy to clipboard option. As with Private URL, all you need is the key and value that you want to be added and our platform will add the values to the strings.xml/integers.xml/bools.xml etc. for Android apps and to Info.plist for iOS apps.
Using Appdome, there are no development or coding prerequisites. For example, there is no Appdome SDK, libraries, or plug-ins to implement. Likewise, there are no required infrastructure changes and no dependency on existing configuration inside the app. Appdome technology adds all needed configuration files, frameworks and more to the app automatically, with no manual development work at all.
Prerequisites for Using Appdome's App Configuration
In order to use Appdome's no code App Configuration, you'll need:
How to use Appdome's App 
Configuration
Follow these step-by-step instructions to customize Any Mobile App:
Upload a Mobile App to Your Account
Please follow these steps to add a mobile app to your Appdome account.
If you don't have an Appdome account, click here to create an account.
From the "Fuse" tab, open the ContextTM service
Select the Fuse Tab. Note: a blue underline will appear showing the step is active
Beneath the Fuse Tab, you will find several service options. Select ContextTM. Note: a blue highlight will appear showing the category is active.
Alternatively, you will be redirected to this page after every Fusion. Context is not mandatory if you don't wish to add any of the Context features you may press Skip.
Click on the toggle to enable Private URL.
Enter the Private URL identifier – this is the Key for the configuration value. should be provided by the App owner.
Enter the target URL.
If you wish that this URL will be in the Clipboard on the first launch, click on the toggle to enable Copy URL to Clipboard.
For Custom Config. files, press on Choose file and upload desired file.
For Custom Values press on the Add button.
Supply a key, select the value's type.  "String" for text, "Integer" for numbers, "Boolean" for True/False.  Then supply the value for the value type.
Click on Add Context to My App.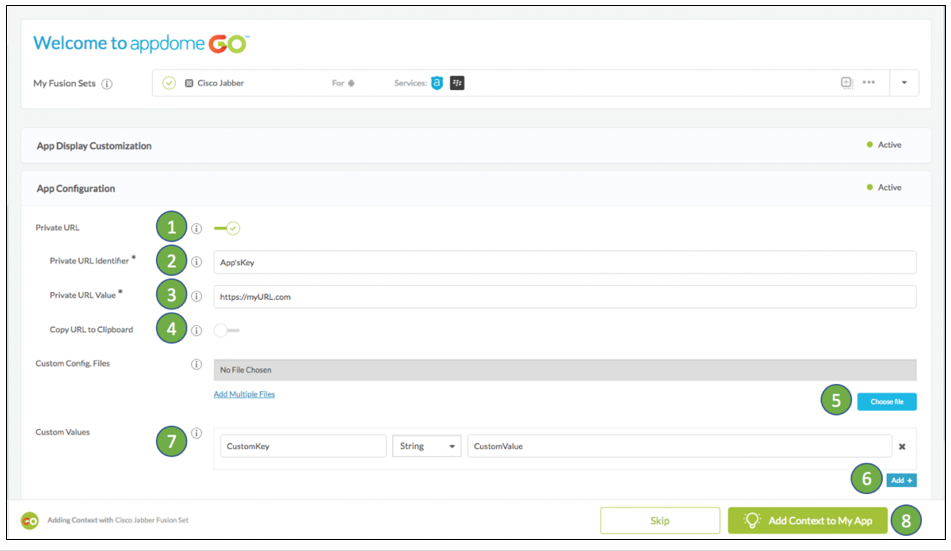 The technology behind Add Context to My App has two major elements – (1) a microservice architecture filled with 1000s of code sets needed for mobile integrations, and (2) an adaptive code generation engine that can recognize the development environment, frameworks and methods in each app and match the app to the relevant code-sets needed to customize your mobile app in seconds.
Congratulations! You now have a mobile app automatically configured by Appdome.

After Adding Configuration files to a Mobile App on Appdome
Sign the Appdome-Fused App (Required)
In order to deploy an Appdome-Fused app, it must be signed. Signing iOS apps and Signing Android apps are easy using Appdome. Alternatively, you can use Private Signing, download your unsigned app and sign locally using your own signing methods.
Deploy the Appdome-Fused App to a Mobile DeviceOnce you have signed your Appdome-Fused app, you can download to deploy it using your distribution method of choice. For more information on deploying your Appdome-Fused apps, please read this knowledge base.
That's it – Enjoy Appdome App Configuration in your app!
How Do I Learn More?
Request a demo at any time.
If you have any questions, please send them our way at support@appdome.com or via the chat window on the Appdome platform.
Thank you!
Thanks for visiting Appdome! Our mission is to make mobile integration easy. We hope we're living up to the mission with your project. If you don't already have an account, you can sign up for free.