Deploy Mobile Apps Integrated with IBM MaaS360
Integrating the MaaS360 SDK into mobile apps enables you to leverage IBM MaaS360's EMM features to protect and manage the app's deployment and behavior. Once the app is uploaded to the MaaS360 console, it can be deployed selectively and managed with the platform's policies.
This Knowledge Base article covers the steps to deploy a mobile app fused with the IBM MaaS360 SDK to the MaaS360 console.
Complete These Tasks Below Prior to Deploying Your App with MaaS360.
How to Deploy Mobile Apps Integrated with the IBM MaaS360 SDK
Upload your Appdome Built app to IBM MaaS360 Console
1. Navigate to MaaS360 Console within your web browser and log in.
2. Go to: A. App-> B. Catalog.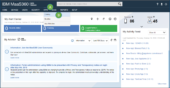 3. Click Add.
4. Under the desired platform, choose Enterprise App for iOS or Enterprise App for Android.
4. Click Browse and choose the file you want to upload.
5. Switch to the Policies and Distribution tab.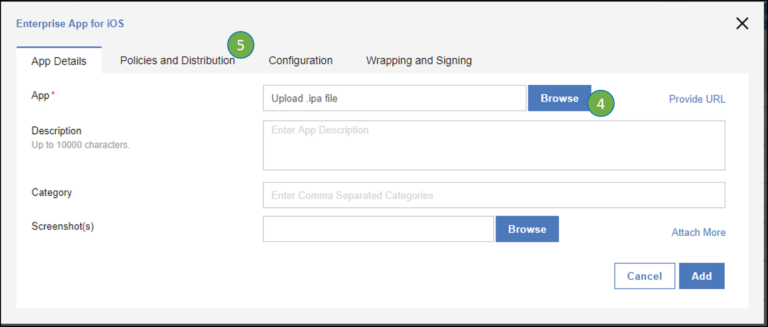 6. Select the group to Distribute to from the drop-down menu (you can add more groups with the + button. You can select other options: instant install to push the installation to the device or to send notification about the new app.
7. Click Add.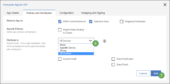 8. Enter the administrator password and click Confirm.

9. Wait for a few moments while the app is uploaded.
Distribute the Built App to a User or a Group
If you did not configure the distribution while uploading the app, or if you want to change the distribution, follow these steps:
1. Find the app in the Catalog and click Distribute.

2. Select distribution type (specific device, group or all users)
3. Search for groups or users
4. Check other desired options: instant install to push the installation to the device, or to send notification about the new app.
5. Click Distribute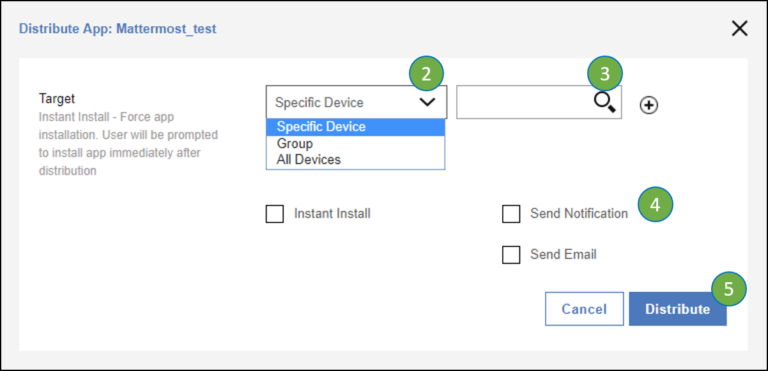 Manage MaaS360 Security Policies 
MaaS360 manages security with "Persona" Policies. These policies manage Data Loss Prevention, Container management, Gateway, and other security features, and apply to all platforms.
1. Go to A. Security –> B. Policies

2. Click View edit an existing policy  OR Add Policy to create a new one.

3. If you are creating a new policy: A. Name it, B. Select Type: "WorkPlace Persona", C. Select Start From: "My Existing Policies", D. From My Existing Policies select "(def) WorkPlace Persone Policy". You can also choose a different category and policy to base the new policy on an existing one. E. Click Continue.
4. Set up your policy. Basic policy settings are found under the WorkPlace Category:
Services: To control which MaaS360 security services are applied to the category, e.g. Secure Mail, App Container, etc.
Passcode: To set up the manage an app locking Passcode.
Security: To set up and manage various Data Loss Prevention and Compliance security features.
Enterprise Gateway: To manage the gateway used by the policy.
You can read more about other categories and see the MaaS360 Persona Policy best practices here.
5. Click A. More –> B. Publish Policy (or Save and Publish, when editing an existing policy)

6. Review the made changes and recommendations from the console then click Continue.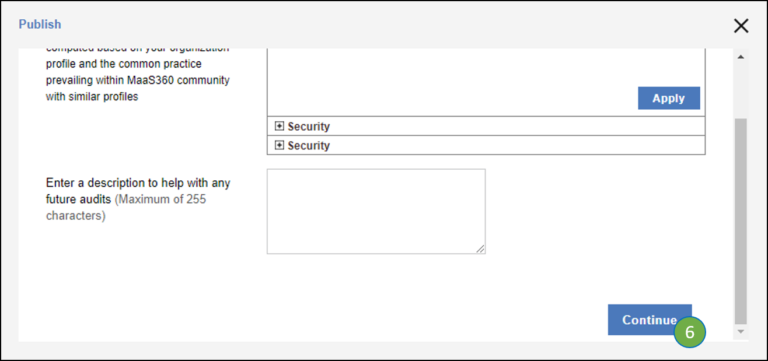 7. Enter the administrator password and Confirm.
How Do I Learn More?
To learn about Device Enrollment with IBM MaaS360: iOS, Android
To learn more about App Protection Policy configuration visit the IBM blog article.
To learn how to Set up MaaS360 Cloud Extender in order to integrate on-premises systems within your environment (e.g. integrating with ADFS, setting up the enterprise gateway, etc.
To make sure your app is properly fused with Maas360 SDK, check out this article on building Apps with IBM MaaS 360 SDK
To zoom out on this topic, deploying mobile apps fused with the IBM MaaS360 SDK, read the Appdome for IBM MaaS360 datasheet on our website.
If you have any questions, please send them our way at support@appdome.com or via the chat window on the Appdome platform.
Thank you!
Thanks for visiting Appdome! Our mission is to make mobile integration easy. We hope we're living up to the mission with your project.
If you don't already have an account, you can sign up for free.