"In-app preferences" are are pieces of information that developers store inside the app. Developers expose In-app preferences mainly to improve usability and to allow customized appearance and behavior. While this is generally a good thing, you need to ensure that any information stored inside the app is secure. This is not easy to do, and security is not generally a core expertise of every mobile developer. So Appdome makes security easy and consistent to add security to any mobile app. Encrypting In-App Preferences is one of the many features you can implement to an app in seconds on Appdome.
This Knowledge Base article summarizes the steps to encrypting in-app preferences in a mobile app using TOTALData™ Encryption by Appdome.
We hope you find it useful and enjoy using Appdome!
Encrypting In-App Preferences in Mobile Apps Without Coding
Using Appdome to encrypt in-app preferences will encrypt all configuration files under /shared-prefs in Android and specific keys under NSUserDefaults in iOS.  Using Appdome to encrypt in-app preferences greatly enhances the security of the app from anyone trying to gain unauthorized access to application secrets and other sensitive data stores in mobile app preferences.
Appdome is a mobile integration platform as a service (iPaaS) that allows users to add a wide variety of features, SDKs, and APIs to Android and iOS apps. Using a simple 'click to add' user interface, Appdome allows anyone to easily encrypt in-app preferences in a mobile app – instantly, no code or coding required.
Using Appdome, there are no development or coding prerequisites. Users merely upload an Android or iOS app, select the features they want to add to the app and click "Build My App". There is no requirement to use a VPN, proxy, or software specific detection mechanisms inside the app. The Appdome technology adds encryption to in-app preferences alongside relevant standards, frameworks and more to the app automatically, with no manual development work at all.
Prerequisites for Using Encrypt In-App Preferences
In order to use Appdome's no-code platform to encrypt in-app preferences you'll need:
How to Encrypt In-App Preferences in a Mobile App on Appdome
From the Build tab, add Encrypt In-App Preferences
Select the Build Tab. Note: a blue underline will appear showing the step is active

Beneath the Build Tab, you will find several service options.
Either select Security and/or navigate to the bottom of any category on Appdome. Note: a blue highlight will appear showing the category is active.
Find TOTALData™ Encryption by Appdome. From within that section:
Click on the toggle to enable Encrypt In-App Preferences.
Click Build My App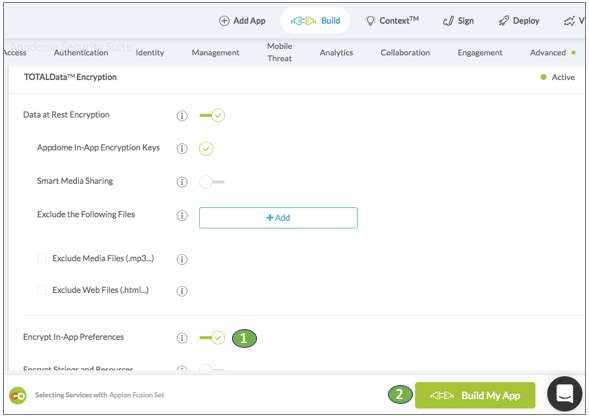 The technology behind Build My App has two major elements – (1) a microservice architecture filled with 1000s of code sets needed for mobile integrations, and (2) an adaptive code generation engine that can recognize the development environment, frameworks and methods in each app and match the app to the relevant code-sets needed encrypt in-app preferences in a mobile app in seconds.
Congratulations! When your integration is complete, you will see the notice below. You now have a mobile app that includes Encryption for In-App Preferences.
What to do After Building An App on Appdome?
After you successfully Build an app, you need to sign the app in order to deploy it. You can also brand or customize a Built app on Appdome. Read this Knowledge Base article to learn what to do after you successfully Build an app. It explains both optional steps and required steps.
How Do I Learn More?
Request a demo at any time.
To zoom out on this topic, visit  Appdome for  Mobile App Security on our website.
If you have any questions, please send them our way at support@appdome.com or via the chat window on the Appdome platform.
Thank you!
Thanks for visiting Appdome! Our mission is to make mobile integration easy. We hope we're living up to the mission with your project. If you don't already have an account, you can sign up for free.