Dedùs - Appdome's Diagnostics App
To troubleshoot and thoroughly investigate unexpected behavior of our customers app, we may require reading the app's logs. Those logs can help our technical team better understand and solve errors fast.
Since extracting logs from mobile devices, may be complicated for casual users, Appdome has developed a secure and easy way to collect and send logs from end-users.
Dedùs, Appdome's diagnostics app, offers Appdome's customers an easy way to automatically collect the Appdome-Built applications logs. The Dedùs is available in Apple's Appstore and Google's PlayStore.
The Dedùs app will automatically evaluate the customer app, collect the app encrypted logs and send them directly to Appdome.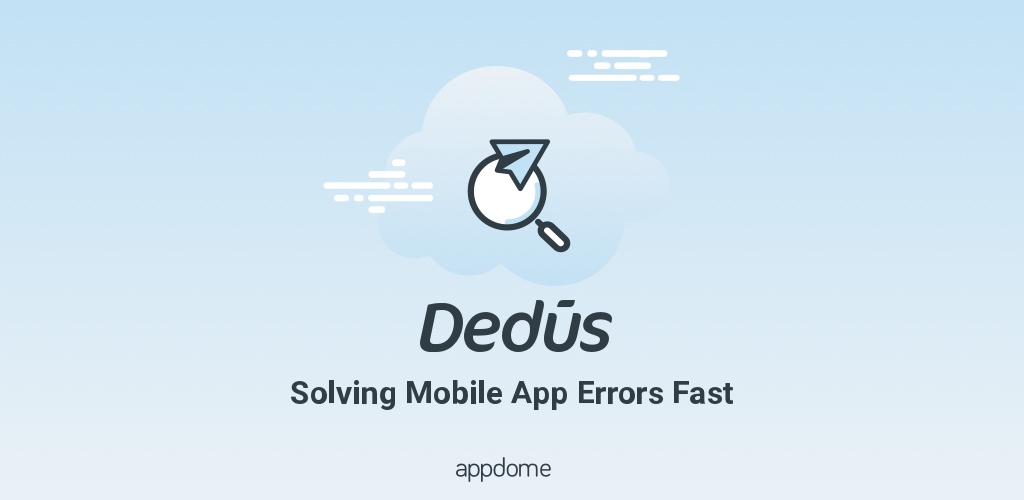 This Knowledge Base article describes how to install and use Appdome's Dedùs app.
Appdome Diagnostics
To allow Dedùs app to automatically collect the customer app logs, first, the user needs to build his application with Appdome Diagnostics service.
Provided that the Appdome's Dedùs app is already installed on the mobile device, Appdome Diagnostics will write encrypted extended logs to the mobile device's external storage when the built app is launched. For example, on Android devices, the logs will be written under /storage/emulated/0/Android/data/<client app bundle_id>.
Each time the built app is run, a new log file will be written in the storage (up to 6 cyclic logs per app). The log collection will continue as long as the built app is running, even if it was moved to the background. To end the current logging, simply terminate the built app.
Prerequisites for Building your app with Appdome Diagnostics and Evaluate it with Dedùs app
Appdome account enabled with Appdome Diagnostics service (available upon request from the Appdome support team)
An app binary
The Dedùs app – can be downloaded free from the public app stores
A mobile device with internet access.
A configured mail client on the mobile device (optional).
How to build your app with Appdome Diagnostics Feature
Upload your Mobile App to Your Account
Please follow these steps to add mobile apps to your Appdome account.
If you don't have an Appdome account, click here to create an account.
Building your app with Appdome Diagnostics
When configuring your Built app with Appdome you'll find the troubleshooting section at the very bottom of the page.
Activate the "Appdome Diagnostics" toggle, then continue building your app.
Sign the Appdome-Built App (Required)
In order to deploy an Appdome-Built app, it must be signed. Signing an iOS app and Signing an Android app is easy using Appdome. Alternatively, you can use Private Signing, download your unsigned app and sign locally using your own signing methods.
Deploy the Appdome-Built App to a Mobile Device
Once you have signed your Appdome-Built app, you can download to deploy it using your distribution method of choice. For more information on deploying your Appdome-Built apps, please read this knowledge base.
How to Use Appdome's Dedùs app
Install the Dedùs app on your mobile device and follow the steps below:
Start your built app and run through the flow that caused the app error. Once reproduced, kill your built app to end the current logging.
Start the Dedùs app and click on START

The app will now detect any compatible apps on the mobile device (which were built with Appdome diagnostics).
Select the relevant client app from the given list.
If no apps were found, please start your built app and repeat the first step.
Enter a description for the problem you encountered (optional)
Click on Evaluate My App

When Evaluate My App is clicked, the Dedùs app diagnoses your built app, collects its encrypted logs and automatically sends your logs to Appdome.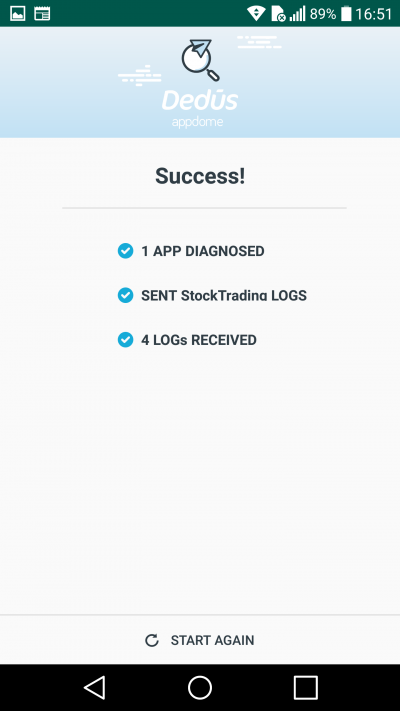 In case the app evaluation failed, please verify that your device is connected to the internet. Alternatively, you can send Appdome the app logs by email:
Click on Send By Mail to launch the device email client with the logs attached
An email window will pop-up with the log attached. The email will be sent directly to our support team.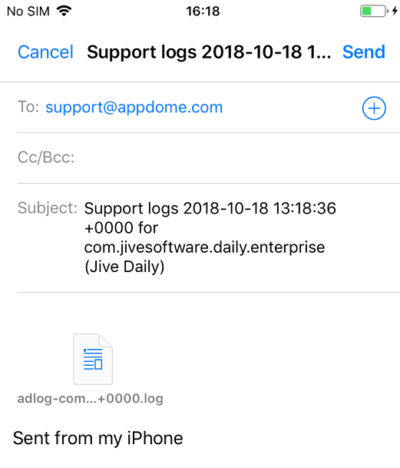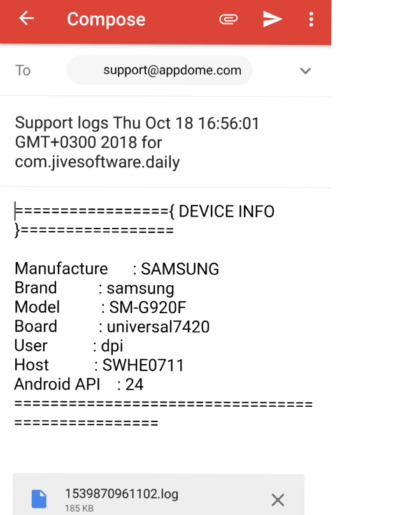 Clearing the device logs and Uninstalling the Dedùs app
At any point, you can clear your device and delete all the built applications encrypted logs by clicking the Delete Logs button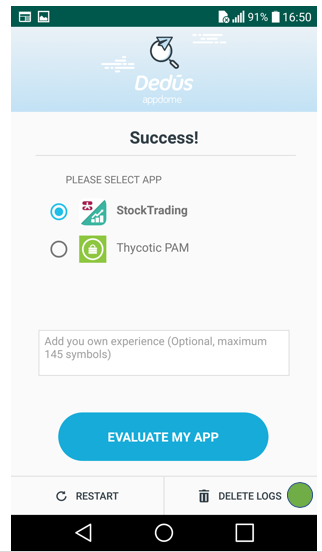 To eliminate the customer built apps log collections, uninstall the Dedùs app from your device and relaunch your apps.
If you have any questions, please send them to support@appdome.com or contact us via the chat window on the Appdome platform.
Thank you!
Thanks for visiting Appdome! Our mission is to make mobile integration easy. We hope we're living up to the mission with your project. If you don't already have an account, you can sign up for free.