Appdome Diagnostics Gets You Priority Support
Extracting logs and crash data from mobile devices and apps in the wild is a difficult task. You as a developer, need an option to resolve application conditions reported by your end-users quickly, and if possible, in a single iteration.
Appdome created the Appdome Diagnostics service to ensure that you are getting a consumer-grade, fast, and efficient resolution path for your users.
Appdome Diagnostics leverages Microsoft App Center to automatically propagate crash data and Appdome logs from your application and facilitates a prioritized route through Appdome support.
This Knowledge Base explains how to opt-in to the Appdome Diagnostics service, during the Build process on the Appdome platform.
We hope you find it useful and enjoy using Appdome!
How to build your app with Appdome Diagnostics
Upload your Mobile App to Your Appdome Account
Please follow these steps to add mobile apps to your Appdome account.
If you don't have an Appdome account, click here to create an account.
Building Appdome Diagnostics
When building your app on Appdome, you'll find the troubleshooting section at the very bottom of the Build page.
If you cannot locate Appdome Diagnostics in the troubleshooting section, please contact Appdome Support to enable the service in your Appdome account.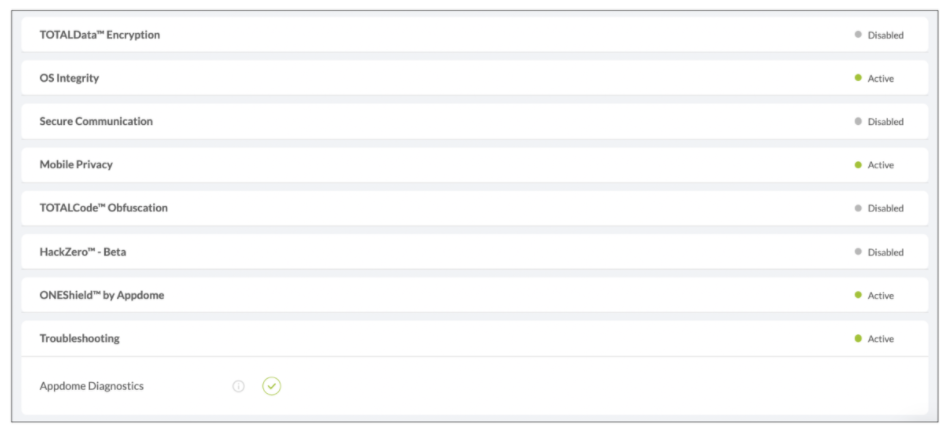 Add Context™ to the Appdome-Built App
Appdome is a full-featured mobile integration platform. Within Context™, Appdome users can brand the app, including adding a favicon to denote the new service added to the app.
For more information on the range of options available in Context™, please read this knowledge base article.
Sign the Appdome-Built App (Required)
In order to deploy an Appdome-Built app, it must be signed. Signing an iOS app and Signing an Android app is easy using Appdome. Alternatively, you can use Private Signing, download your unsigned app, and sign locally using your own signing methods.
Deploy the Appdome-Built App to a Mobile Device
Once you have signed your Appdome-Built app, you can download to deploy it using your distribution method of choice. For more information on deploying your Appdome-Built apps, please read this knowledge base.
About Microsoft App Center:
Microsoft App Center is a secure cloud service that helps Appdome to instantly propagate crash data and logs. This enables Appdome to provide you with a secure, reliable prioritized support route.
About Privacy:
Following our privacy policy, the crash data and logs collected by Microsoft App Center is used only for troubleshooting and resolution purposes and does not contain any identifiable information.
No mobile end-user data is transmitted to Appdome.

How Do I Learn More?
For more information on Appdome Platform please visit this resource. If you have any questions, please send them our way at support@appdome.com or via the chat window on the Appdome platform.
Thank you!
Thanks for visiting Appdome! Our mission is to make mobile integration easy. We hope we're living up to the mission with your project. If you don't already have an account, you can sign up for free.