Appdome is a mobile integration platform as a service (IPaaS) that allows anyone to add a wide variety of features, SDKs and APIs to Android and iOS apps, no code or coding required. Using a simple 'click to add' user interface, anyone can easily implement new features and services to any mobile app – instantly.
This knowledge base article explains how you can start your 5-day Free Trial for No-Code Mobile SDK Integration.
Thank you for visiting and we hope you find this article useful.
How to Start a 5-day Free Trial for No-Code Mobile SDK Integration
After you create an account on Appdome, you can start free, self-guided, 5-day trial to premium features, such as no-code Mobile SDK Integration for 3rd party SDKs.
For example, under the "Management" category, you can select from any of the Enterprise Mobility Management vendor SDKs and complete a test implementation to Android and iOS mobile apps. Completing a free trial is a simple and useful way to confirm functionality and/or complete user testing prior to making a purchase decision.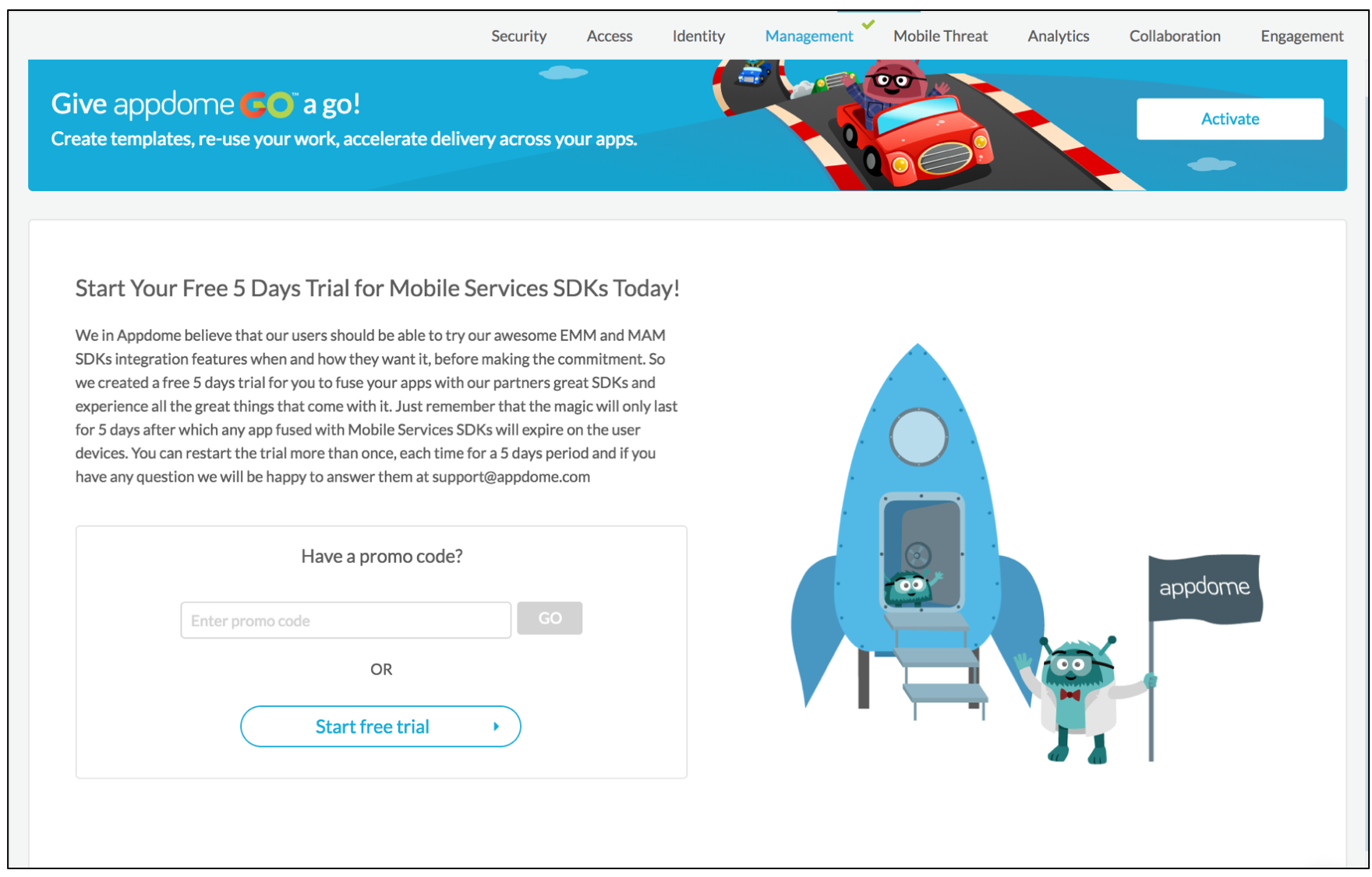 First-time mobile service or SDK users love the free trials on Appdome. Implementations are completed in seconds and organizations typically get the full week to confirm functionality and complete user testing.
Guided Testing for During your Free Trial for No-Code Mobile SDK Integration
Guided Testing is available for up to a maximum of 5 days. Guided Tests are arranged by Appdome personnel, enabling users to experience all the benefits of the Appdome platform, services, and advanced features. Guided Tests include the assignment of a technical account manager who is knowledgeable about your specific mobile integration use case and a detailed testing plan.
How Do I Learn More?
Feel free to request a demo at any time. If you have any questions, please send them our way at support@appdome.com or via the chat window on the Appdome platform.
Thank you!
Thanks for visiting Appdome! Our mission is to make mobile integration easy. We hope we're living up to the mission with your project. If you don't already have an account, you can sign up for free.