How to Build Services to Apps on Appdome - End to End
Appdome is a mobile integration platform as a service (iPaaS) that allows users to build services to apps including a wide variety of security features, SDKs, and APIs to Android and iOS apps.
This Knowledge Base article provides step-by-step instructions on how to Build apps with your desired features and successfully integrate services to your Android and iOS mobile apps using the Appdome platform.
We hope you find this knowledge base useful and enjoy using Appdome!
About Appdome's Patented Build Technology
Appdome's is a unique, patented, mobile integration automation technology that allows an authorized user to point, click and integrate any external feature set(s) to one or more mobile apps in minutes (sometimes, seconds).  Appdome's Building Fusion is offered exclusively via the Appdome platform.
The Appdome Building Fusion process allows multiple mobile integration projects to be completed in parallel, leveraging a variety of productivity and collaboration tools.  Individuals or teams can use Appdome's Mobile Integration Workflow, allowing organizational audibility, traceability, and accountability in completing mobile integration projects.
Prerequisites to Build Services to Apps on Appdome
In order to build an app on Appdome, you'll need:
How to Build Services to Apps on Appdome
This is an End-to-End process.
Upload a Mobile App to Your Account
Sign in to your Appdome account.  If you don't have an Appdome account, click here to create an account.
Please follow these steps to upload a mobile app to your Appdome account.
In a few seconds, your upload will be completed. The app will be added to your App Library.
Note that we keep a version history of all your uploads, so you don't need to track this yourself.
You may notice, that the Cisco Teams app was already previously uploaded to the Appdome platform.
After selecting your mobile app, click Build My App.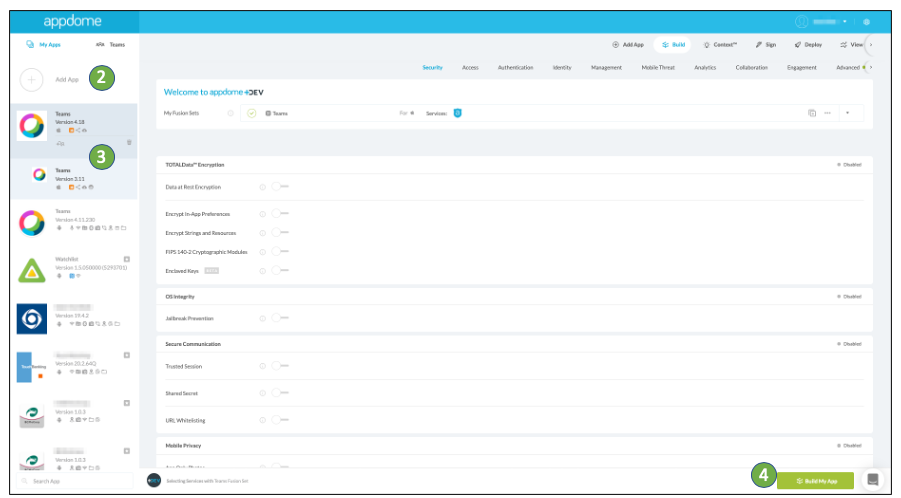 Build Services to Apps 
A common use case is to integrate a mobile management SDK with your app so that your app can be managed by your EMM / MAM solution.
This can be found under the Management tab.
Appdome enables you to add different features and SDKs to a single app binary at the same time!
For example, you can also choose to build your app with Appdome's mobile security suite, which includes diverse categories of security and mobile app protections, covering literally every major mobile security category that matters. This can be found under the Security tab.
Once you've made all your services and features configuration, you are ready to Build. Click Build My App and all of the selections that you made above will be integrated into the app binary.
NOTE: The Building process takes approximately one minute to complete. Wow, that's cool!
Congratulations! You now have a mobile app fully integrated with Appdome's features and services.
Add Context™ to the Appdome Built App (optional)
Optionally, you can now customize your Built app. Within Appdome's Context™ suite, users can brand the app, including adding a favicon to denote the new service added to the app. Select the Context™ tab.

Sign your Appdome Built App (Required)
In order to deploy an Appdome-Built app, it must be signed. Appdome allows you to choose from the following options, under the Sign tab:
You can sign your app through the Appdome platform. Signing iOS app and Signing an Android app is easy using Appdome. (recommended)
You can choose Private Signing, download your unsigned app and sign locally using your own signing methods.
You can sit back and chill, do nothing, and make the decision later.  We will save all your built apps in the App Library, and they'll be waiting for you in the exact state that you last worked on them.

Deploy the Appdome Built App to a Mobile Device
Once you have signed your Appdome Built app, select the Deploy tab. You can download the app to your PC or deploy the app using your distribution method of choice.
You can also enable Automatic Deploy to public app stores such as Google Play or Apple's iOS AppStore, or you can deploy to your own enterprise app store.
For more information on deploying your Appdome Built app(s), please read this knowledge base.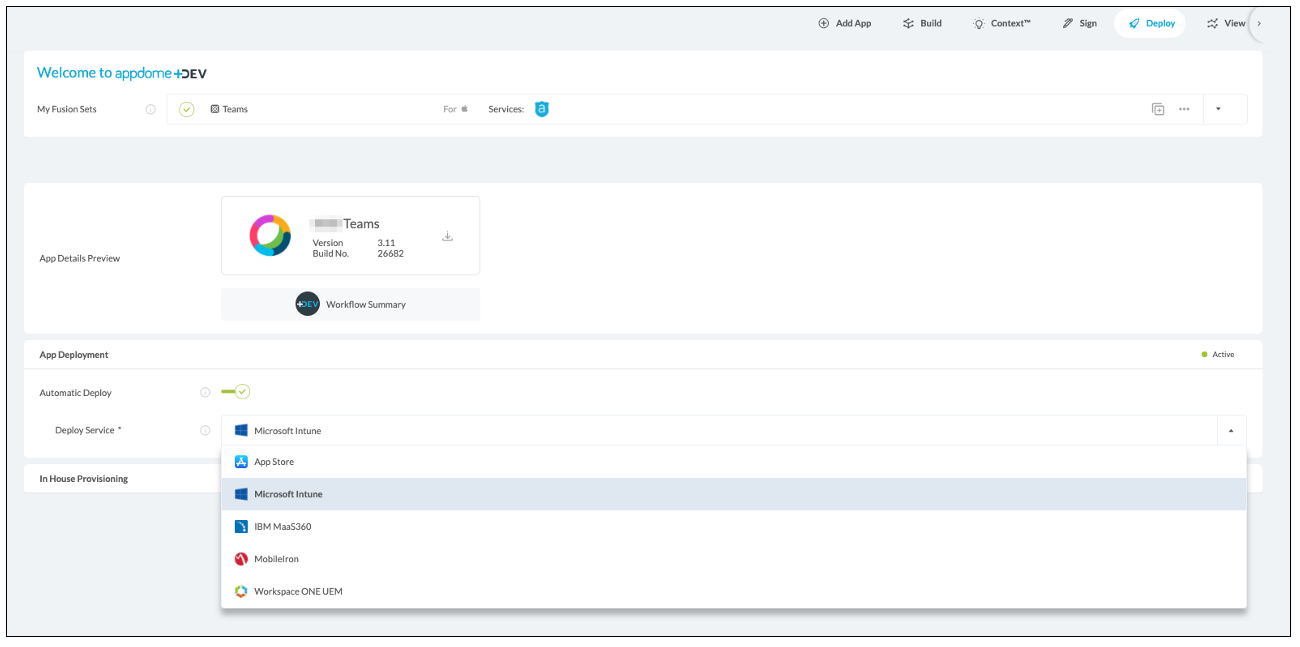 That is it  – we conclude the demonstration. That's a quick end-to-end tutorial of fusing an app, and although we didn't cover every feature, this should have provided you a pretty good idea into some of the core functions of Appdome app Building and give you a glimpse of the significant efficiencies that Appdome can provide to accelerate your deployment of mobile apps in the enterprise.
How Do I Learn More?
Check out Appdome's Mobile Integration Workflow or request a demo at any time.
If you have any questions about how to build services to apps, please send them our way at support@appdome.com or via the chat window on the Appdome platform.
Thank you!
Thanks for visiting Appdome! Our mission is to make mobile integration easy. We hope we're living up to the mission with your project. If you don't already have an account, you can sign up for free.