Integrating Mattermost with BlackBerry Dynamics - no-code
Introduction
Mattermost is an open-source chat service. It is designed as an internal chat for organizations and companies
This Knowledge Base article provides a step-by-step tutorial to integrate the BlackBerry Dynamics mobile SDK to Mattermost for iOS end to end.
We hope you find it useful and enjoy using Appdome!
About BlackBerry Dynamics integration with Appdome.
Appdome is a mobile integration platform as a service (iPaaS) that allows users to add a wide variety of features, SDKs and APIs to Android and iOS apps. Using a simple 'click to add' user interface, Appdome allows anyone to easily implement Any EMM SDK into Mattermost App – instantly, no code or coding required.
Using Appdome, there are no development or coding prerequisites. For example, there is no Appdome SDK, libraries, or plug-ins to implement. Likewise, there is no requirement to implement BlackBerry Dynamics Protection capabilities for Android or iOS apps. Using Appdome, mobile apps will have BlackBerry Dynamics as if they were natively coded into the app.
Prerequisites for Adding BlackBerry Dynamics to Mattermost for iOS.

How To Add BlackBerry Dynamics to Mattermost on iOS
Follow this step-by-step instruction to add Mattermost for iOS with BlackBerry Dynamics
Obtain Mattermost App binaries from Github
Mattermost posts the latest versions of their compiled app at: https://github.com/mattermost/mattermost-mobile/releases
As shown in the picture below, you can download the iOS .ipa file, and Android .apk or .aab file.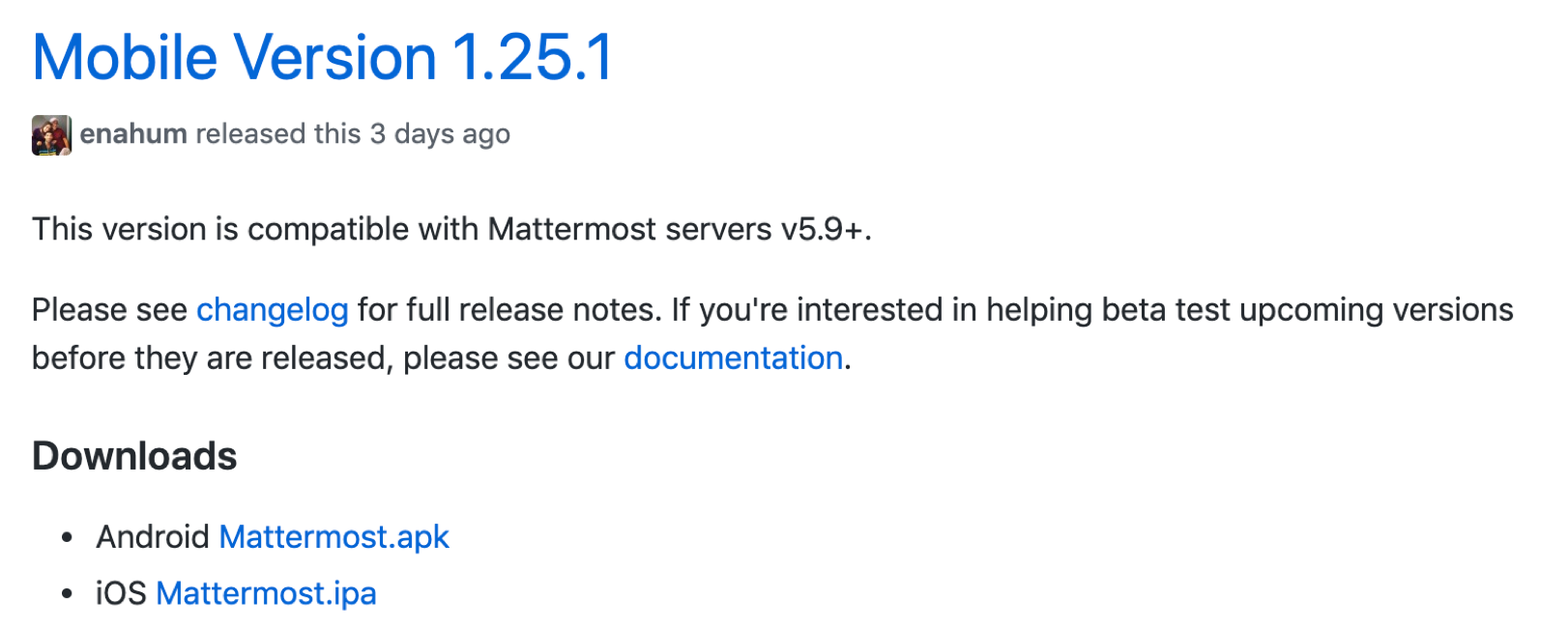 Upload a Mobile App to Your Account
Please follow these steps to add Mattermost app to your Appdome account.
If you don't have an Appdome account, click here to create an account.
From the "Build" tab, Select Management
Under Enterprise Mobility Management, enable EMM services
Choose BlackBerry Dynamics SDK from the drop-down list

Match the App Bundle ID to the GD entitlement
By matching the App to GD Entitlement ID, the fusion process will change the app bundle ID to match the GD Entitlement ID entered previously. The app bundle ID will be used to create an App ID on the Apple developer site to create an App ID and push notification certificate. The Apple App ID and push notification certificate will be added to your Apple mobile provisioning profile that is used when signing the app.
Choose desired security and privacy services from Appdome Mobility Suite or other features like BoostEMM,ONEShield, or FIPS 140-2 compliance.There are lots of options to choose from to augment and enhance the capabilities of the BlackBerry Dynamics SDK. As a general rule, many of our large enterprise customers keeps the default options selected and then enable the following options useful for Mattermost deployments. You can click the link for each option listed to view the Knowledge Base article on the option.Appdome Mobility Suite
Custom EMM Policies
Populate Settings in AppConfig
Jailbreak Prevention by Appdome

BoostEMM by Appdome
Connect Secure Browser
Connect Secure EmailMobile Permission Control
In-App Messages Only
Click Build My App
Note! For ADFS, you can apply User Agent to your Mattermost Fusion. User Agent will override the user agent header for all HTTP requests.
Under the Access tab, expand Appdome Access Suite, and enable User Agent with a User Agent Header value. This will be the value-added to each HTTP request.

The technology behind Build My App has two major elements – (1) a microservice architecture filled with 1000s of code sets needed for mobile integrations, and (2) an adaptive code generation engine that can recognize the development environment, frameworks and methods in each app and match the app to the relevant code-sets needed to add BlackBerry Dynamics SDK to the mobile app in seconds. For example, the technology of BlackBerry Copy-Paste prevention, work that ordinarily a developer would need to do.
Congratulations! You now have Mattermost for iOS fully integrated with BlackBerry Dynamics.
After Adding BlackBerry Dynamics to Mattermost on Appdome
After you have added BlackBerry Dynamic to Mattermost on Appdome, there are a few additional steps needed to complete your mobile integration project.
Add Context™ to the Appdome-Built Mattermost app

Appdome is a fully featured mobile integration platform. Within Context™, Appdome users can brand the app, including adding a favicon to denote the new service added to the app.
For more information on the range of options available in Context™, please read this knowledge base article.
Sign the BlackBerry Dynamics Built Mattermost App
In order to deploy an Appdome-Built app, it must be signed. Signing iOS apps and Signing Android apps are easy using Appdome. Alternatively, you can use Private Signing, download your unsigned app and sign locally using your own signing methods.
Before you can sign the Mattermost iOS app, you will need to create the proper certificates, app ID, and provisioning profile on your Apple Developer Enterprise Program site. https://developer.apple.com
The following Mattermost article has the step-by-step instructions here. When creating the App ID on the Apple developer site, use the Bundle ID configured in Step #3 above. For our deployment, which is unique to tests I performed in Appdome Labs for this article, I used: com.appdomelabs.mattermost.test for the BlackBerry Entitlement, App Bundle ID and Apple App ID .
Here are the screenshots for the App ID and Provisioning profile created on Apple for our environment to get Push notifications working for Mattermost with BlackBerry.
First, the Apple App ID is created using: com.appdomelabs.mattermost.test


Next, in the Capabilities section of the new App ID, you enable the Push Notifications service then click edit to create a production SSL certificate. Apple guides you through the process on the screen.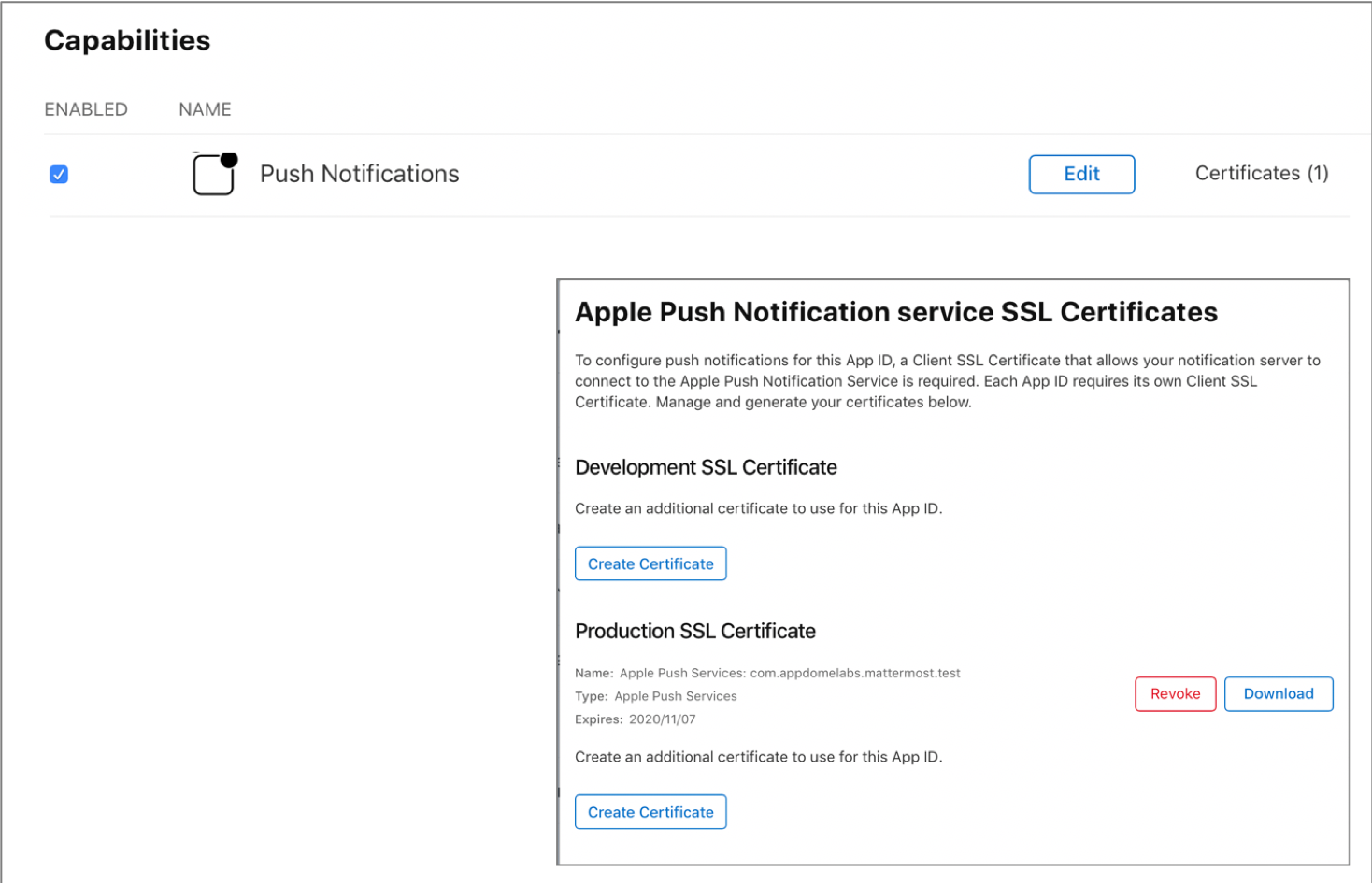 Finally, you create a mobile provisioning profile that adds the new Mattermost App ID with push notifications enabled and assign the p12 certificate that you will use to sign the app. You will then download this provisioning profile to use with the p12 signing certificate for signing the Mattermost app.
The Mattermost app will need to be signed after adding the BlackBerry SDK and additional features you've enabled by using Appdome.
Once the app is signed, you can download the app and deploy it using BlackBerry Good Control or BlackBerry UEM.
Deploy the Appdome-Built Mattermost App to a Mobile Device
To deploy the app using BlackBerry Dynamics Good Control, please follow the steps outlined in the article Deploying Apps Fused with the BlackBerry Dynamics SDK.
You can also download Your app to deploy it using your distribution method of choice. For more information on deploying your Appdome-Fused apps, please read this knowledge base.
That is it – Enjoy Your own Built version of Mattermost by Appdome.
How Do I Learn More?
Here is some more information about Mattermost For App Publishers
To zoom out on this topic, visit Appdome for Enterprise Mobility on our website.
If you have any questions, please send them our way at support@appdome.com or via the chat window on the Appdome platform.
Thank you!
Thanks for visiting Appdome! Our mission is to make mobile integration easy. We hope we're living up to the mission with your project. If you don't already have an account, you can sign up for free.