How to Build a Mobile Security Template for All Apps
Appdome users have the ability to create mobile security templates, known as "Fusion Sets," to speed up and repeat mobile integration projects. Fusion Sets can include validated, approved or known combinations of features, services and configurations that users need to use and reuse across several apps or in successive integration projects on each new release of a single app.
This Knowledge Base article provides step-by-step instructions for creating Fusion Sets and using mobile security templates with mobile apps.
We hope you find this knowledge base useful and enjoy using Appdome!
How to Build a Mobile Security Template for All Apps
Appdome is a no-code mobile app security platform designed to add security features to mobile apps. Appdome's no-code mobile app security platform offers mobile developers, DevSec and security professionals a convenient and reliable way to protect Android and iOS apps without coding. When a user clicks "Build My App," Appdome leverages a microservice architecture filled with 1000s of security plugins, and an adaptive code generation engine that matches the correct required plugins to the development environment, frameworks, and methods in each app.
Using Appdome, there are no development or coding prerequisites to build secured apps. There is no SDK and no library to manually code or implement in the app. The Appdome technology adds the relevant standards, frameworks, stores, and logic to the app automatically, with no manual development work at all.
Mobile security templates automate mobile service implementations, ensure implementation consistency and accelerate integration time per release of each app.
Prerequisites for using Appdome Fusion Sets
In order to use Appdome Fusion Sets features, you'll need:
3 Easy Steps to Build a Mobile Security Template for All Apps.
Follow these step-by-step instructions to use Fusion Sets on Any Mobile App:
Use Default Fusion Set Per App
Each app is assigned a default mobile security template or "Fusion Set" to save and store a user's work on Appdome. This Fusion Set changes as the user's feature and service selections change. Each time a user clicks "Build My App," the services contained in this Fusion Set are applied to the app.
Create a Custom Fusion Set 
To create a Custom Fusion Set:
Click the + icon to copy the default Fusion Set.

Enter a name to identify the new Fusion Set.

To Subscribe All iOS

or

all Android apps, click the * (star) Icon.
To Subscribe individual apps, click on the app and then, chose the Fusion Set from the drop-down menu inside the Build Tab – under Appdome GO.
You can now add to your mobile security template by adding features and services to the Fusion Set and create custom implementations to suit specific use cases. You can also subscribe to new apps or remove apps from this Fusion Set to complete multiple projects in parallel.
Completing Mobile Integration Projects using Fusion Sets
With either the Default Fusion Set of Custom Fusion Set, adding features, SDKs and APIs to mobile apps is easy. Simply select the desired Fusion Set and Click "Build My App."
Congratulations! When your integration is complete, you will see the notice below. You now have a secured mobile app fully integrated with the selections added to this Fusion Set.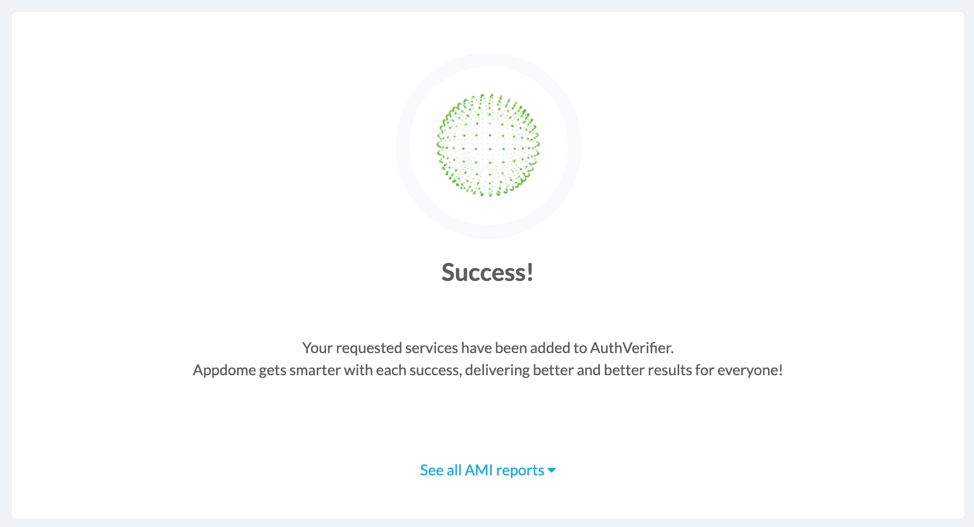 For more information on how to build an app, and the wide range of options you have, please read this knowledge base.
Export and Compare Fusion Sets
When collaborating as a team, multiple people may work on the same Fusion Set – one creates the Fusion Set, someone else signs it, etc. You will probably want to review any changes committed on the Fusion Set, and you can do that by exporting its settings as a JSON file.
Even when working alone, you can compare your different Fusion Sets and monitor your work.
To export a Fusion Set settings:
Click the meatballs menu icon to review the Fusion Set details.
Click on the download icon to export the fusion set settings as a JSON file.

The JSON file will automatically be downloaded to your PC.
That is it – Enjoy using Appdome Fusion Sets!
How Do I Learn More?
Check out the Appdome platform datasheet or request a demo at any time.
If you have any questions, please send them our way at support@appdome.com or via the chat window on the Appdome platform.
To zoom out on this topic, visit the Appdome platform page on our website.
Thank you!
Thanks for visiting Appdome! Our mission is to make mobile integration easy. We hope we're living up to the mission with your project. If you don't already have an account, you can sign up for free.