How to Obtain iOS Device Logs for Troubleshooting
iOS Device logs are used for troubleshooting apps. Logs are very helpful in finding the root cause of the issues you may be  experiencing in an app.
This Knowledge Base article provides step-by-step instructions for gathering logs while troubleshooting iOS apps on Appdome.
We hope you find this knowledge base useful and enjoy using Appdome!
Obtaining iOS Device Logs
You can configure your iOS apps to enable "extended logs" in the app.  You can use Appdome to enabled extended logs in iOS apps when you build the app on Appdome.
Using Appdome, there are no development or coding prerequisites.  For example, there is no Appdome SDK, libraries, or plug-ins to implement.  The Appdome technology adds relevant standards, frameworks and more to the app automatically, with no manual development work at all.
In order to gather iOS device logs, you'll need:
Console
USB cable connected to an iOS device
Text Editor
You should enable your iOS device logs whenever you want to view helpful and detailed information on why the app is experiencing problems.  Here is more information from Apple on how you can enable logs and why they are useful.
Enabling Extended Logs in Appdome-Built apps
Verify with Appdome support team that your account can enable Extended Logs
While Building an app, under Security and Management you can enable Extended Logs
Under Troubleshooting, enable Extended Logs for the Fusion set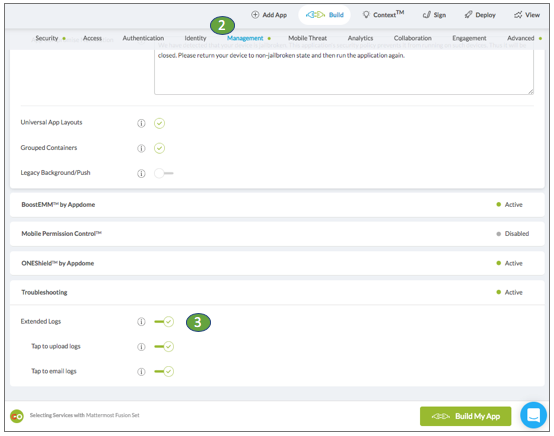 How to Use the Console App to Obtain logs 
Follow these step-by-step instructions to obtain iOS device logs:
Connect your iOS device to a Mac
Select Trust this computer on the iPhone pop-up request
Start the Console app and choose the relevant device
Select your connected iOS device, and you will see the iOS device logs being gathered
You can filter the log messages using the search bar on top right6. Reproduce the problem
7. Highlight all of the log data
8. Copy the log messages using Command + C or Edit–> Copy9. Open a text editor and paste the data
10. Save this log file as a .logHere's a link to a video of this process in gathering an iOS app's extended log.
Obtaining App-Specific Crash Logs in Xcode 
If you want to get a specific app crash log, you can use Xcode to get it.
Open Xcode
Go to the menu bar: Window → Devices and Simulators. Select your iPhone and press the arrow button in the bottom right
Click View Device Logs
Right-click on the App Crash and select Export Log
Enter the log file name and the destination then click Save
Alternative App for Gathering iOS Device Logs – iOS Console
Besides the options above, you can also obtain iOS device logs using the iOS console app. Follow these steps:
Install iOS Console
Connect your iPhone to the computer
Select Trust this computer on the iPhone pop-up request
Start iOS Console and you will see the iOS device logs being gathered.
Reproduce the problem
Highlight all of the log data
Copy the log messages using keys Command + C or select Edit –> Copy
Open a text editor and paste the data
Save this log file as a .log
How Do I Learn More?
Check out our blog for more resources on troubleshooting.
If you have any questions, please send them our way at support@appdome.com or via the chat window on the Appdome platform.
Thank you!
Thanks for visiting Appdome! Our mission is to make mobile integration easy. We hope we're living up to the mission with your project. If you don't already have an account, you can sign up for free.