In the mobile industry, the development process is shared between different teams – Development, QA and Production. Each team passes the final product to the next team in the chain. Sharing tested and working fusion sets is the way to achieve a smooth process from development all the way to production.
This Knowledge Base article describes how to share your Fusion Set with other teams and enhance your workflow. This feature is known as Flex-Release – Shareable Fusion Sets.
About Flex-Release – Shareable Fusion Sets
Appdome is a mobile integration platform as a service (iPaaS) that allows users to add a wide variety of features, SDKs, and APIs to Android and iOS apps. Using a simple 'click to add' user interface, Appdome allows anyone to easily integrate features to any mobile app – instantly, no code or coding required.
Using Appdome, there are no development or coding prerequisites. For example, there is no Appdome SDK, libraries, or plug-ins to implement. The Appdome technology adds features and relevant standards, frameworks and more to the app automatically, with no manual development work at all. This is done using Fusion Sets, which store your fusing preferences. You can read more about Appdome Fusion Sets here.
Appdome-GO provides the ability to share Fusion Sets across all teams and apps in an account. This way, Appdome users avoid repeating the same configuration tasks for each app in each team, which is frustrating and error-prone.
Prerequisites for sharing your Fusion Set
To be able to share Fusion Sets, you'll need:
How to share your Fusion Set
Follow these step-by-step instructions to share a Fusion Set with any of your teams:
Upload a Mobile App to Your Account
Please follow these steps to add a mobile app to your Appdome account.
If you don't have an Appdome account, click here to create an account.
Share a Fusion Set with other Teams
Go to the "Teams" tab
Select the team that contains the Fusion Set which you want to share.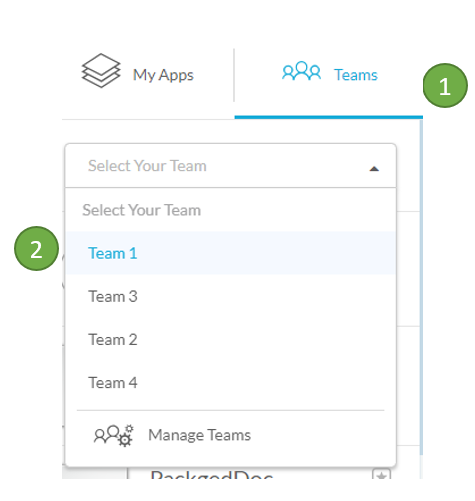 Select an app and choose the Fuse tab. 
Click the arrow on the right to see all your Fusion Sets.
Click "…" (Details) next to the Fusion Set that you want to share. iOS Fusion Sets can be shared with other iOS apps, and Android Fusion Sets can be shared with other Android apps.
Click the share icon on the bottom to share this Fusion Set with another team. 
Now you can choose the team you want to share the Fusion Set with and click on "Share".
You will automatically be redirected to the team you shared your Fusion Set with.  If you shared an iOS Fusion Set, it will appear for all iOS apps of that team, and if you shared an Android Fusion Sets it will appear for all Android apps.
After Sharing a Fusion Set with another Team
After you have shared your Fusion Set with another team, members of that team can use it to fuse apps in that team.
Add Context™ to the Appdome-Fused App
Appdome is a full featured mobile integration platform. Within Context™, Appdome users can brand the app, including adding a favicon to denote the new service added to the app.
For more information on the range of options available in Context™, please read this Knowledge Base article.
Sign your Appdome-Fused App (Required)
In order to deploy an Appdome-Fused app, it must be signed. Signing iOS apps and Signing Android apps are easy using Appdome. Alternatively, you can use Private Signing, download your unsigned app and sign locally using your own signing methods.
Deploy the Appdome-Fused App to a Mobile Device
Once you have signed your Appdome-Fused app, you can download to deploy it using your distribution method of choice. For more information on deploying your Appdome-Fused apps, please read this Knowledge Base.
That is it – Enjoy sharing your Fusion Sets with Appdome GO!
How Do I Learn More?
Check out Sharing Templates Using Appdome-GO or request a demo at any time.
If you have any questions, please send them our way at support@appdome.com or via the chat window on the Appdome platform.
Thank you!
Thanks for visiting Appdome! Our mission is to make mobile integration easy.
We hope we're living up to the mission with your project. If you don't already have an account, you can sign up for free.