No-Code Mobile Integration Workflow Summary | Appdome
This Knowledge Base article explains Appdome's No-code Mobile Integration Workflow Summary and how it helps developers complete projects using Appdome-GO
The Appdome App Workflow Summary is a tool that allows you to get the most out of your team by letting you manage your workflow, and even access past Builds of your app.
This Knowledge Base article explains what the Appdome App Workflow Summary is and how to use it.
We hope you find this knowledge base useful and enjoy using Appdome!
About the Appdome App Workflow Summary
Appdome is a mobile integration platform as a service (iPaaS) that allows users to add a wide variety of features, SDKs, and APIs to Android and iOS apps. Using a simple 'click to add' user interface, Appdome allows anyone to easily integrate features to any mobile app – instantly, no code or coding required.
The Appdome App Workflow Summary allows you to keep track of who worked on the app,  and access previous Fused builds, allowing your team to work on multiple versions of the same app at once.
Prerequisites
In order to user Appdome's Team Entitlements, you'll need:
Mobile App (.ipa for iOS, or .apk or .aab for Android)
An Ideal Appdome account.
How to use the Appdome App Workflow Summary
Upload a Mobile App to Your Account
Please follow these steps to add a mobile app to your Appdome account.
If you don't have an Appdome account, click here to create an account.
Accessing the Appdome App Workflow Summary screen
You can access the Appdome Workflow Summary screen by clicking the marked green button (1) on the Build, Context™ and Sign tabs, or by clicking the "Workflow Summary" (2) button in the Deploy tab.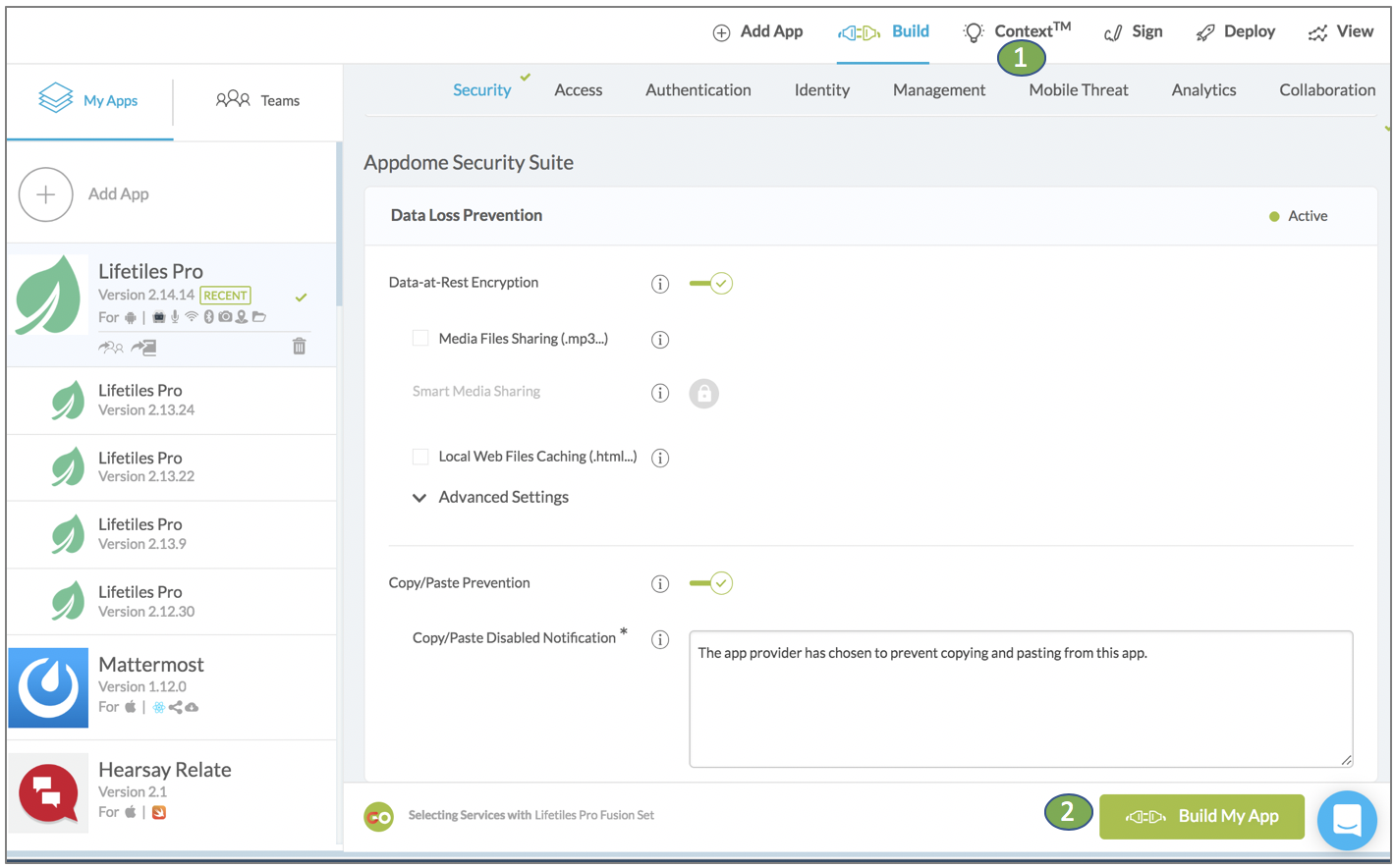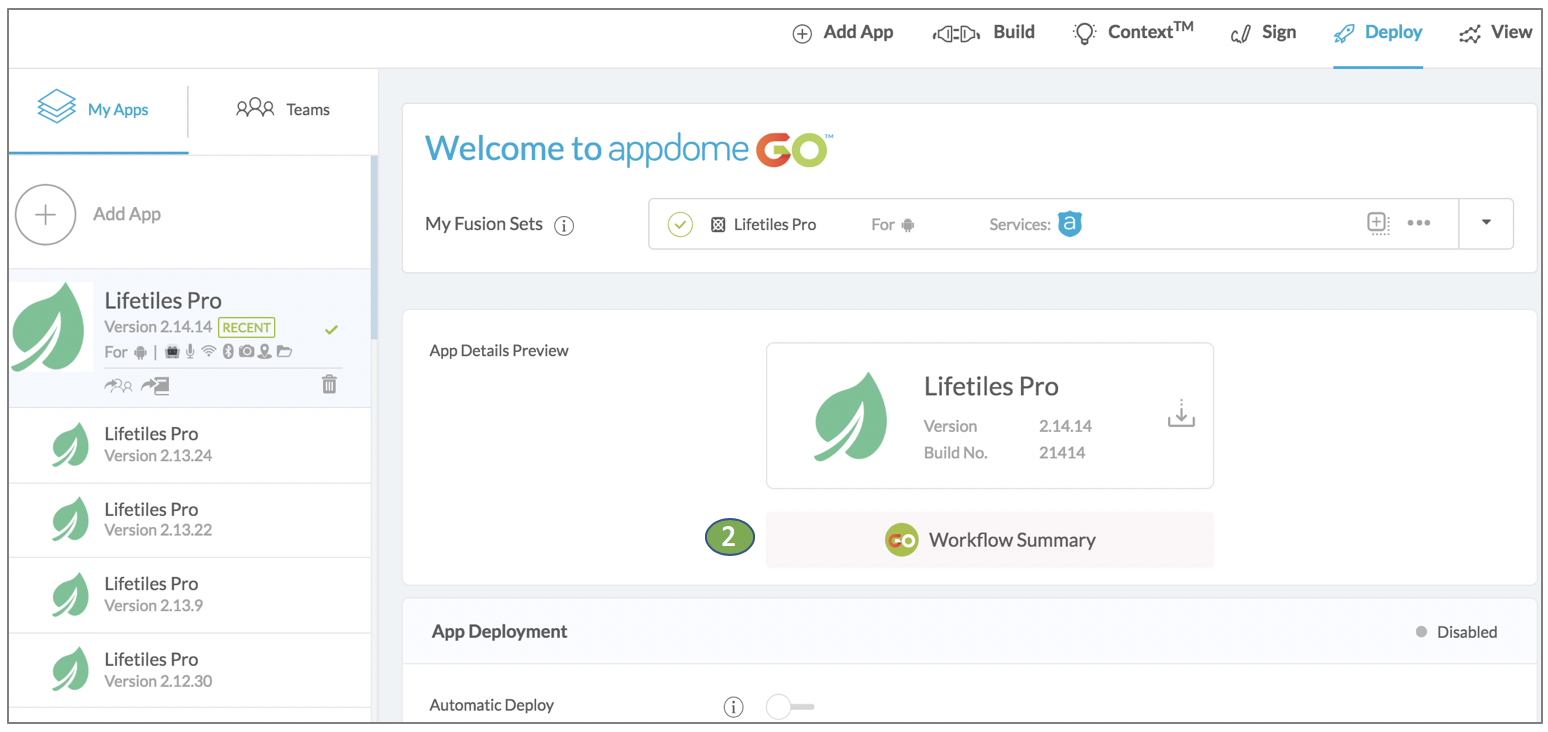 When opened, you will be presented with the following screen with all the full workflow information:
The details on the uploaded original app
The details on the app built
When the app was last modified and rebuilt
Previous fused builds.
The details on the app signature
you can approve the app from the by clicking the Approve Workflow button.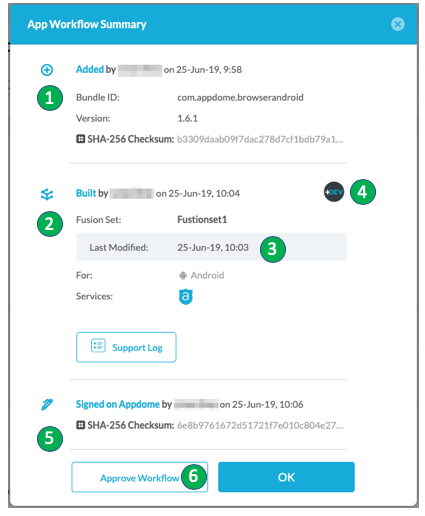 Accessing Previous App Builds Using Appdome App Fusion History
At Appdome, we save previous snapshots of your Built app in the form of Fused builds, in case anything goes wrong or you want to try a different Fusion.
To access the previous Fused builds, simply click the Workflow button (1) button in the Workflow Summary screen. Select a Fused Build by clicking the button.
Click the Workflow button to open the previous Fused Builds.
Click the Use This button to select a build.
After Selecting a Previous Fused Build
After selecting a previous Fused build, you can continue working on it as usual and freely switch between different Fused builds.
Keep in mind that Appdome only keeps your 5 latest Fused builds.
How Do I Learn More?
Check out the What is Appdome-GO article or request a demo at any time.
If you have any questions, please send them our way at support@appdome.com or via the chat window on the Appdome platform.
To zoom out on this topic, visit theAppdome Platform section on our website.
Thank you and try Appdome!
Thanks for visiting Appdome! Our mission is to make mobile integration easy. We hope we're living up to the mission with your project. If you don't already have an account, you can sign up for free.