F5 Anti-Bot SDK on Appdome: What's included
All F5 customers who buy AWAF with advanced bot protection to get to use Appdome to integrate the F5 Anti-Bot Mobile SDK into any iOS/Android apps. The implementation of the F5 Anti-Bot SDK on Appdome is included in the F5 anti-bot protection service contract.
This KB article covers everything that's included with this service offering.
For more information on how to add the SDK to any Android and iOS app, please refer to the following KB articles
Integrate any mobile app with the F5 Anti-Bot SDK
Matching Swift versions when Fusing the F5 Anti-Bot SDK
Appdome's Anti Bot Verification App
Getting Your Appdome Production License for the F5 Anti-Bot SDK Integration
If you are an F5 customer, you should create your Appdome account after you have signed an AWAF with bot protection service contract with F5. If you already created an account as part of your trial of Anti-Bot, you can upgrade your trial account to a production account by following the instructions below.
At the end of your trial, your account will be automatically reset to a Complete account on Appdome. The Complete account is the basic account on Appdome. Once reset, you can log in to your account and navigate to the Mobile Threat tab. In the Mobile Threat tab, you will see the following screen prompting you for the unique F5 Promotion Code needed to begin your production use of the Appdome for F5 Anti-Bot service: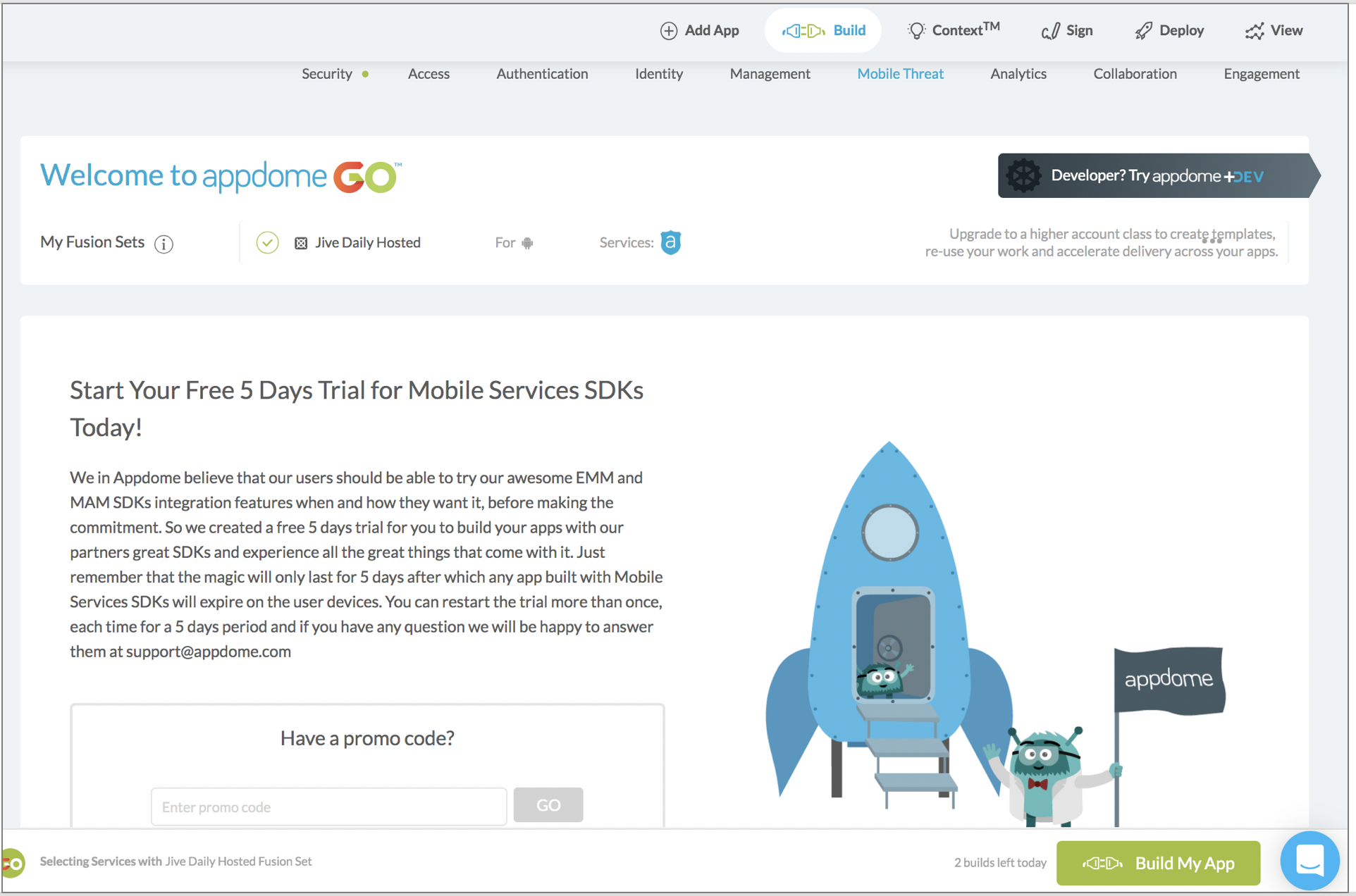 In the box requesting a promotion code, you should enter the promo code that F5 gave you after signing your AWAF with bot protection service contract. If you did not get a promo code, read this F5 support article on where you can find the promo code or contact your F5 account manager to request that promo code. Without this promo code, you cannot gain access to a production license to the  Appdome for F5 Anti-Bot license.
When you enter a correct F5 Promo Code, your account will be upgraded to what Appdome calls a "Partner Ideal" account. Partner Ideal is a premium class account intended to give you the full benefit of production-ready, no code implementations of the F5 Anti-Bot Service into your Android and iOS apps. Before you can start using your Partner Ideal account, you first have to agree to the F5 Terms and Conditions in the box shown below.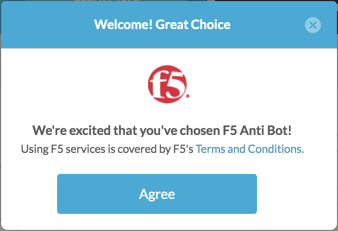 The Partner Ideal Account
F5's bot protection solution uses a JavaScript challenge to stop bots from trying to connect to the webserver. Mobile apps don't know what to do with a JavaScript challenge and therefore cannot connect to the webserver. This is the reason for the Anti-Bot SDK. The Anti-Bot SDK is an alternative to the JavaScript challenge and allows a mobile app to connect to the webserver. Please watch this webinar for more information.
With a Partner Ideal account, F5 Customers can add the F5 Anti-Bot SDK to any mobile app that needs to connect to a web server that has bot protection enabled. To make use of the Appdome for F5 Anti-Bot Service, F5 Customers navigate to Mobile Threat tab, select the F5 Anti-Bot SDK and specify the protected host (shown below). After doing this, click Build My App. F5 Customers with valid Partner Ideal Accounts can add F5 Anti-Bot to any number of mobile apps, all without code or coding a thing.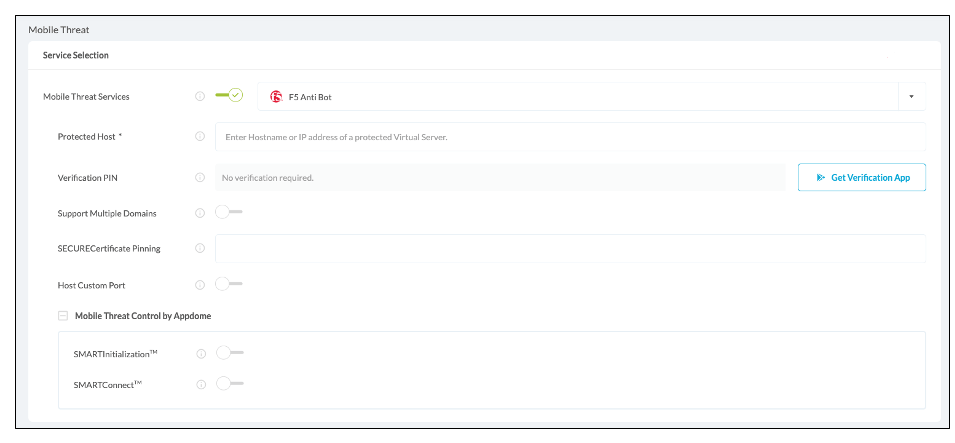 F5 Customer can also take advantage of advanced features made available in Mobile Threat Control on the Appdome for F5 Anti-Bot Service tab.  These advanced features are also included in your Partner Ideal subscription.
All Appdome for F5 Anti-Bot Customers enjoy Appdome's ONEShield™ app shielding and app hardening solution. ONEShield™ adds anti-debugging, anti-tampering, anti-reversing and other app hardening features to the app itself, protecting the F5 Anti-Bot implementation and more from malicious hackers looking to tamper with your app. For an overview of ONEShield and the features below, please refer to this KB article.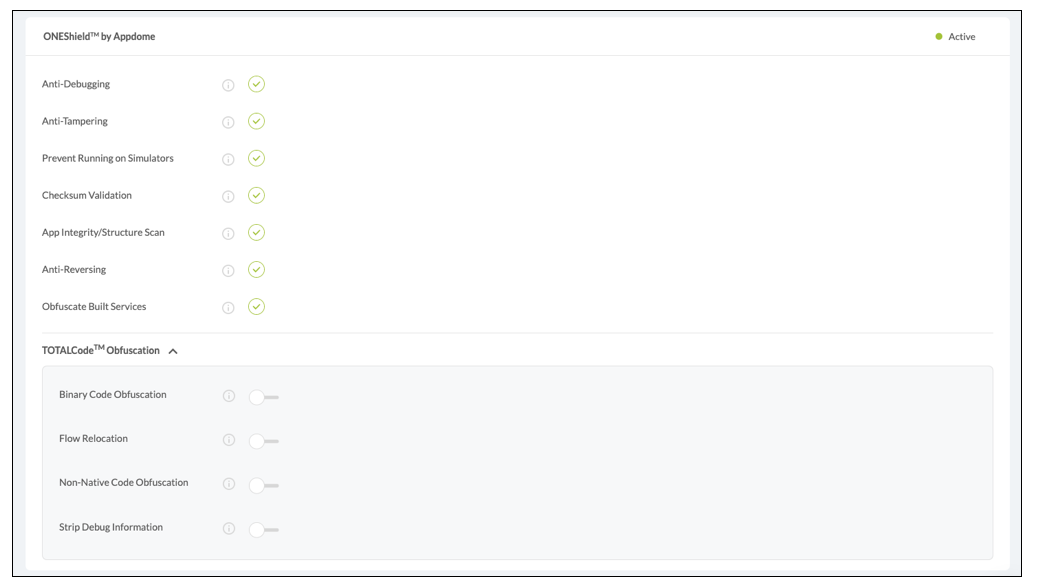 After Adding F5 Anti-Bot to a Mobile App on Appdome
After you have added the F5 Anti-Bot SDK to any mobile application on Appdome, there are a few additional steps needed to complete your mobile upgrade project. Please view the article here on How to Complete My Mobile Integration Project After I Build My App.
That is it – Enjoy your application that has been integrated with the F5 Anti-Bot Mobile SDK.
How Do I Learn More?
To zoom out on this topic, visit the Mobile Threat section on our website or Request a demo at any time.
If you have any questions, please send them our way at support@appdome.com or via the chat window on the Appdome platform.
Thank you!
Thanks for visiting Appdome! Our mission is to make mobile integration easy. We hope we're living up to the mission with your project. If you don't already have an account, you can sign up for free.