By David Ramel
Appdome Inc. today launched its new platform that provides automatic integration services for mobile apps, no coding required.
Called the AppFusion Platform, the new beta offering lets developers (or even "citizen mobile integrators") integrate their iOS or Android apps with resources such as mobile SDKs or other services simply by selecting feature sets from a list. The cloud-based automatic integration tool "fuses" the resources into the app, bypassing traditional processes that require hand coding or implementing SDKs in source code.
"To do this, the AppFusion platform creates a fusion adapter and, in some cases, merges the original application resources with the SDKs' resources in order to create a single coherent resource bundle," the company explains on the support section of its Web site. "This combined resource bundle can include both your app's UI and the UI elements that are contained in the mobile service SDK."
The magic behind the scenes is enabled by the fusion adapter, described as "a user-defined, user-driven software adapter that is added as part of a newly compiled app binary, created when you fuse an app."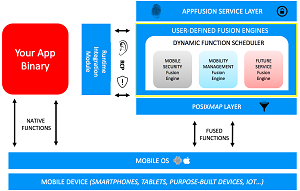 [Click on image for larger view.]

The Inner Workings of a Fusion Adapter (source: Appdome)
"Each AppFusion Adapter is unique and is dynamically generated based on the service integration choices a user makes on the AppFusion platform," the company said. "As the user selects feature sets, the system assembles the AppFusion Adapter and fuses the adapter to the mobile app(s) chosen by the user."
The company said the platform provides the following benefits:
App developers can significantly reduce integration time to almost "nil" and turn their focus on developing great apps.
App owners don't need to integrate third-party services to their app at a source-code level, which provides more integration choices for their users.
Enterprise mobility professionals can utilize existing staff to add new functionality to apps without taxing development resources, allowing more choices and control over deployments.
Mobile Solution Vendors (MSVs) can easily extend their mobile application services to enrich more mobile apps, which broadens the applicability of their SDKs and speeds their sales cycles.
Along with unveiling AppFusion, the 2011 start-up announced that is security suite will be offered free to all users of the platform, forever.
Its features include:
Mobile DLP including data at rest encryption, secure data container and copy/paste protection.
Advanced app protection including blocking of application tampering, reversing, debugging and pharming.
OS integrity including Jailbreak and Root protection.
Secure mobile communications including man-in-the-middle and session hijacking protection.
Mobile compliance including FIPS 140-2 compliance.
"By allowing mobile developers and app providers to add a comprehensive mobile security solution to their apps, we will speed up the development of secure mobile apps, guarantee security for mobile app users from first use, and enable mobile users to discover new applications," said CEO Tom Tovar.
AppFusion is offered on a subscription basis featuring three options: Complete, Extend and Ideal, with different levels of pricing.
David Ramel is an editor and writer for 1105 Media.