Appdome-DEV
is a No-Code Mobile CI/CD Workflow Integration Solution
Better Continuous Integration and Continuous Delivery
For Mobile Application Development Teams
Mobile CI/CD Workflow Integration From Appdome
Appdome offers mobile app development organization a no-code mobile CI/CD workflow integration solution. Appdome-DEV™ connects directly to build systems including Jenkins, GitLab CI, TeamCity, Travis CI, Bamboo, CircleCI, Codeship, Codefresh, and others.
Appdome-DEV expands on Appdome's no-code mobile integration capabilities to provide organizations all the tools needed to accelerate mobile integration lifecycles.
Inside Appdome-DEV, organizations will find build to publish APIs, mobile integration templates, collaborative workspaces and teams, integration with build systems, automatic publishing to public and enterprise appstores and more.
Appdome-DEV allows organizations to complete hundreds of simultaneous integrations, making Appdome the perfect mobile CI/CD workflow integration solution with CI/CD systems and tools which enterprises already have deployed.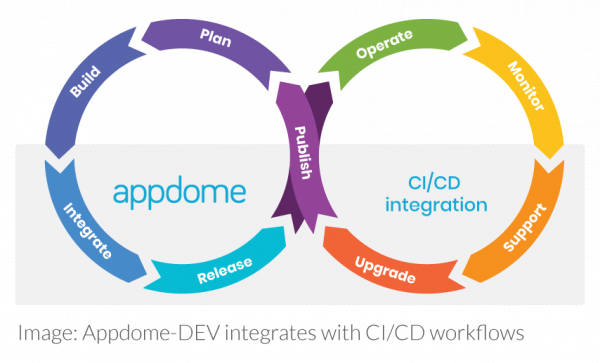 Top Highlights