A new partnership that signals the future of enterprise mobility has arrived!
I'm extremely proud and honored to announce a new Appdome and VMware partnership that accelerates customers' digital transformation for mobile apps at work.
VMware's Workspace ONE is leading the market in growth and capabilities, including contextual access, intelligent authentication, and more. Read VMware's blog on the Appdome partnership.
Appdome's TOTALMobility™ for Workspace ONE is a complete, no-code integration solution for all elements of the Workspace ONE product suite. TOTALMobility for Workspace ONE enables every enterprise IT and security team to quickly, easily and consistently deliver the entire Workspace ONE security, privacy and intelligent analytics capabilities into any mobile app. With TOTALMobility for Workspace ONE, organizations can also build and enhance mobile applications to use Workspace ONE secure browser, secure email and secure document sharing by default.
TOTALMobility for Workspace ONE is the most comprehensive, feature-rich and easy to use integration option for enterprise IT, security and development teams. It is a 100% validated solution designed to make using all that Workspace ONE has to offer in apps a breeze.
The Appdome and VMware Partnership 3 Years and Counting
It's a humbling experience to hear members of the VMware product team refer to Appdome as the "Gold Standard" for rapid and efficient delivery of UEM-MAM solutions into mobile apps. This announcement marks a milestone in our 3 year relationship with VMware. Back then, several of us took a trip to VMware HQ in Atlanta. There, we met with VMware's PM and Engineering teams who wanted to conduct several live, no-advance-notice tests to validate Appdome's claim of "any app" in VMware Workspace ONE (then, called AirWatch). After several 10 hour days with VMware's most senior mobile product and engineering leaders, multiple apps and UEM configurations, and functional tests, Appdome and VMware declared all tests a success.
We learned so much from our colleagues at VMware during this session, and they've been great to work with over the past 3 years. VMware knew that there was no "one size fits all" implementation that would work for all enterprise environments. That's why the VMware team used different Appdome builds, each configured with different combinations of the full AirWatch SDK + VPN  tunneling + encryption + DLP in apps.
What Our Partnership Means for VMware Customers
The Appdome and VMware partnership means several things for VMware customers. First, VMware customers get the total solution set Workspace ONE has to offer in one no-code solution. Second, Appdome and VMware expect to continue the product collaboration, so VMware customers can quickly and easily enjoy the broadest UEM feature set in the widest range of mobile apps possible. While most UEM-MAM users struggle making even the smallest portion of other UEM-MAM solutions work with the tiniest fraction of mobile apps. Our new partnership with VMware guarantees that VMware customers don't struggle and can achieve any use case with all that Workspace ONE has to offer and more.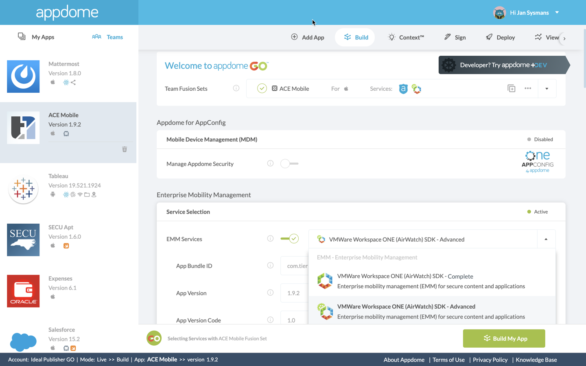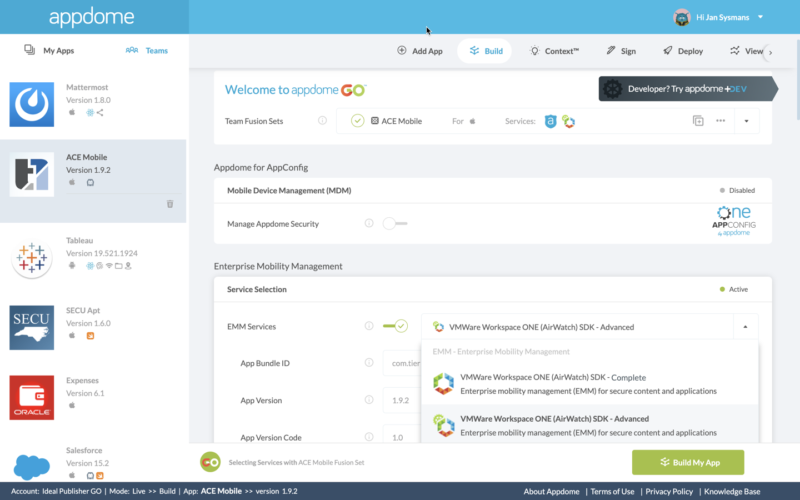 With Appdome, the customer is in charge. VMware customers can build VMware Workspace ONE in mobile apps, customizing their deployment to suit their unique needs:
No-Code delivery of the complete VMware Workspace ONE UEM solution set in a click.
No-Code delivery of the complete VMware Workspace ONE Intelligence and Privacy services in a click.
AI-generated code for app-specific implementations, including all provisioning and authentication workflows, policy controls, tunneling rules, as well as segmented and protected data, cookie, credential stores and more.
AI-generated code for routing and encryption optimization, to ensure performance, optimal UX and app security.
Appdome's ONEShield™, for anti-tampering, anti-debugging, anti-reversing protections inside apps. This guarantees that mobile apps cannot be tampered with or altered to compromise your data or your mobile end users.
There are also speed and time-to-market advantages for every mobile app release for the workplace.
Single solution for enterprise IT, Security, DevOps, LOB, and B2E mobile app makers
No coding, no SDK, no wrapper, no plugins, no hardware, no hassle
Auto-deploy to mobile end-users via Google Play, iOS App Store and VMware Workspace ONE enterprise app stores
Out-of-the-box, dependency-free, compatibility with every mobile app method and framework and development environment.
Using AI to build UEM-MAM and other features in mobile apps future-proofs your organization's mobile strategies from downstream changes to in-app methods, frameworks or dev environments, as well as changes in the SDK, OS or app.
Beyond SDK Integration, Appdome Sets a New Standard
TOTALMobility for Workspace ONE sets a new standard for fast and easy delivery of UEM and secure mobile apps in the enterprise. VMware customers enjoy the use of Appdome, the fastest, easiest and only way to guarantee compatibility between the complete VMware Workspace ONE product suite and any internal or 3rd party app.
Appdome uses artificial intelligence to build and implement VMware Workspace ONE SDKs, features, and policy controls into mobile apps in minutes. Appdome's AI coding engine bridges the gaps in method, protocol and framework support that may be missing in SDKs or in apps. Appdome's AI coding engine also adds optimization and security features to mobile apps that raise the bar in enterprise security.
TOTALMobility for Workspace ONE also comes out-of-the-box with extensions that ensure the compatibility with any app, framework, or mobile app method built in the app. VMware customers can eliminate plug-ins, separate SDKs and avoid 100s of incompatibilities between SDKs and modern frameworks or methods. For example, routing Webviews or AVPlayer inside UEM-MAM tunnels is a huge issue in the market. A search on Stack Overflow for 'WKWebView issues' returns back 177 pages of answers.

Any developer will spend months trying to manually code the logic and flows to make that one feature – webviews – work with UEM-MAM SDKs, only to rebuild it when the app's code changes.
Appdome provides an intelligent, automated way to overcome incompatibilities between UEM-MAM SDKs and modern or legacy mobile apps.

Benefits of TOTALMobility for Workspace ONE – Advanced
TOTALMobility for Workspace ONE – Advanced is the full license package recommended for enterprise mobile developers and enterprise digital transformations.
Inside TOTALMobility for Workspace ONE – Advanced, customers can access the VMware Workspace ONE security, privacy and intelligent analytics SDKs. Workspace ONE. This package also includes Appdome's advanced VPN tunneling capabilities, which supports WKWebViews, AVPlayers, and more. To ensure that mobile apps use the Workspace ONE productivity apps for discovery, communication and sharing, Workspace ONE – Advanced offers direct integrations with Workspace ONE secure browser, email, document sharing.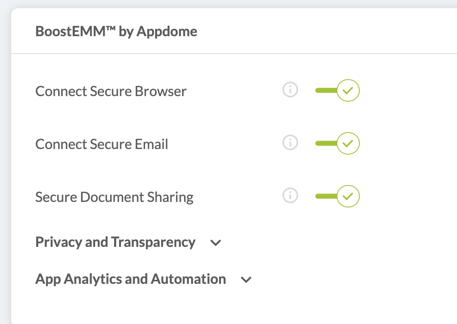 For workplace privacy and GDPR compliance, customers can combine Appdome's innovative Mobile Permission Control™ with Workspace ONE privacy SDK to offer guaranteed workplace privacy and compliance.
Mobile Permission Control lets organizations control core OS permissions and intents such as access to contacts, microphone, camera, photos, video and more inside 3rd party mobile apps (all without a management profile).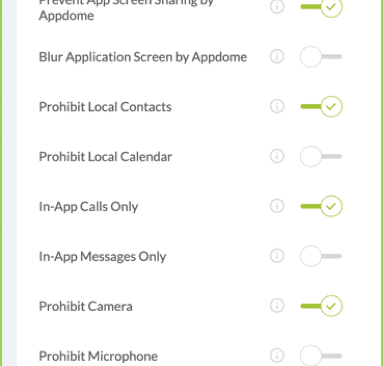 For Enterprise IT ease, Workspace ONE – Advanced also includes the ability to automatically publish Appdome-built apps directly to VMware Workspace ONE enterprise app store. A one-click upgrade option provides enterprise developers the ability to automatically publish Appdome-built apps to any public app store (Google Play, iOS App Store). Also for enterprise mobile developers, Appdome offers the ability to fully automate the entire app lifecycle, creating templates for Workspace ONE integrations in existing CI/CD systems such as Jenkins, Travis and others.
We're honored to have the Appdome and VMware partnership. Our goal is to make it super easy for enterprise customers and app developers to adopt Workspace ONE without needing to write any code. Learn more and get started at https://www.appdome.com/vmware.