Appdome MobileTRUST Alliance – The Only Mobile Security Solution with a Guarantee
I'm not going to provide a bunch of statistics or headline clippings about how x.y.z bank got hacked for yada yada million passwords. Besides, you can find a bunch of existing reports by searching Google. Instead, I'll start off with some questions about mobile app security that may resonate with problems you're trying to solve today in mobile app security. And then I'll tell you how you can actually go about doing something about the problem – by finding and fixing mobile app security vulnerabilities instantly. So now the questions:
Are you tired of reading about the latest mobile security breach and wondering if your app is next?
If you're a mobile developer or DevOps, do you feel like mobile security is just too hard or time-consuming to tackle in your CI/CD delivery process? Does app security take longer than your app delivery window allows?
If you're in security operations when you view the results of your mobile app vulnerability scans do you feel intimated? powerless to act? Do you find that the list is actionable? Or too daunting to tackle such that you don't know where to begin?
If the answer to any of the above questions is YES, you're not alone.
I'm excited to unveil a first-of-a-kind mobile security alliance, called the MobileTRUST Alliance, which delivers Instant Remediation for mobile threats and vulnerabilities for any iOS and Android app. This is the first time anybody has brought together vulnerability and threat scanning with mobile app security into a cohesive solution set. This results in a more comprehensive collection and understanding of threats, viewed through an enriched and synthesized lens, and armed with a set of tools to address the issues on the spot!
Appdome's Mobile Trust Alliance brings together market-leading solutions in threat and vulnerability detection that covers the entire mobile threat landscape, from crowdsourcing, bug bounty, penetration testing, cloud-based mobile threat detection, static and dynamic app analysis, AI-enabled app security scanning and more.
The program enables customers to find and validate threats in any mobile app using one of our MobileTRUST partner's scanning tools. Then upload the app to Appdome to implement your choice of mobile security features to protect the app instantly. MobileTRUST delivers a guaranteed outcome.
The alliance is unique as it's the only mobile security solution that enables customers to instantly remediate mobile app security vulnerabilities as soon as they are found. MobileTRUST also covers all major categories of threat and vulnerability detection. And we're willing to stand behind the Alliance with a guarantee.
Mobile Security Lags Feature Development
Organizations developing mobile apps must devote virtually all of their resources to building and enhancing their mobile apps to stay ahead of the competition and remain relevant to their users.
Unfortunately, as mobile apps evolve, the security features and methods needed to protect mobile users, data and the app itself fall behind – simply put, development teams favor new functionality and feature velocity over security. In addition, traditional mobile security solutions are either too complex or time-consuming to implement – they simply cannot fit into the modern continuous delivery environment that mobile apps are developed within. The chart below illustrates the concept of how the mobile app vulnerability gap grows over time.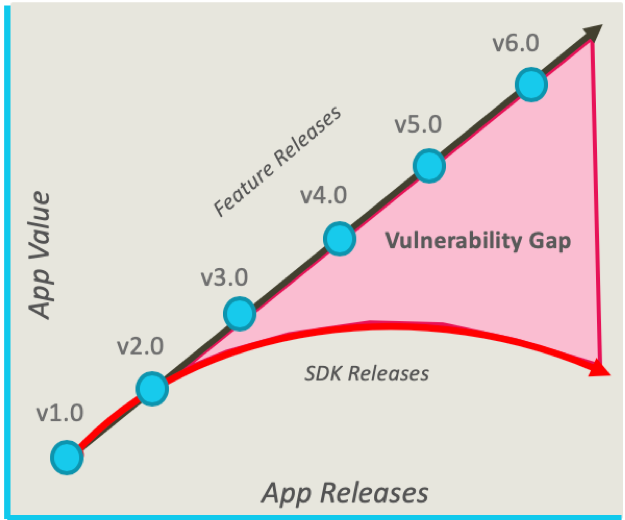 Appdome's MobileTRUST Alliance – Close the Mobile App Vulnerability Gap  
Appdome's MobileTRUST Alliance attacks this problem at the root cause, enabling customers to reduce the vulnerability gap by instantly remediating mobile app vulnerabilities as they are discovered.  To learn more about the MobileTRUST Alliance click here. The first partnership we're announcing is with ImmuniWeb. With this partnership, customers can find and remediate vulnerabilities in mobile apps instantly, without code or coding. In addition, both ImmuniWeb and Appdome's solutions enable a far broader set of resources to participate in the security process: from mobile developers to DevOps and IT staff, to traditional security operations resources. Read my blog on ImmuniWeb to get all the details on this exciting first partner in the MobileTRUST alliance.
KEY CUSTOMER BENEFITS of the MobileTRUST Alliance
The MobileTRUST Alliance helps customers close the loop and complete the app security cycle, delivering the following key benefits:
Instant, no-code threat remediation (no coding, no work)
100% compatibility with all Android and iOS apps – No framework dependencies
Guaranteed Outcome: Native and non-native mobile app security covering all mobile threat vectors
Zero impact on usability, app publishing, performance
Predictability: Fixed subscription price per app*