Automated multi-service/multi-vendor and cross platform mobile integration is the holy grail when it comes to the mobile app development. Delivering on the promise enables companies to create any mobile experience employees, partners and other constituents need to be productive. At the same time, it also allows mobile administrators to connect apps with existing or planned enterprise IT services in a flexible and dynamic manner.
Fast Track Mobile App Development
With Appdome, not only is automated mobile integration possible, it's instant, on-demand, and can be accomplished across multiple services and vendors – all without writing a single line of code! In fact, you don't even need access to the app source code to do work on Appdome.
For those new to Appdome, allow me to describe how Appdome works. Appdome created our patented Fusion technology to enable anyone to add new mobile services to any existing mobile app in seconds, without any coding. Both developers and non-developers use Appdome's simple point to click UI on the Appdome platform to select the mobile services that they need to integrate. Then, they click "Build My App" to add those services to any mobile app – the platform takes care of the rest.
In the example below, I am completing a complex multi-service integration of the Intune App SDK + the Azure AD SSO service to the Mattermost Android app that was developed in React Native. (Note that Microsoft does not provide explicit guidance, support or plugins for apps developed in React Native). The end-to-end process of building the app, including adding support for SAML or OpenID Connect, and deploying it to the Intune app store takes about 5 minutes and does not require any code or coding.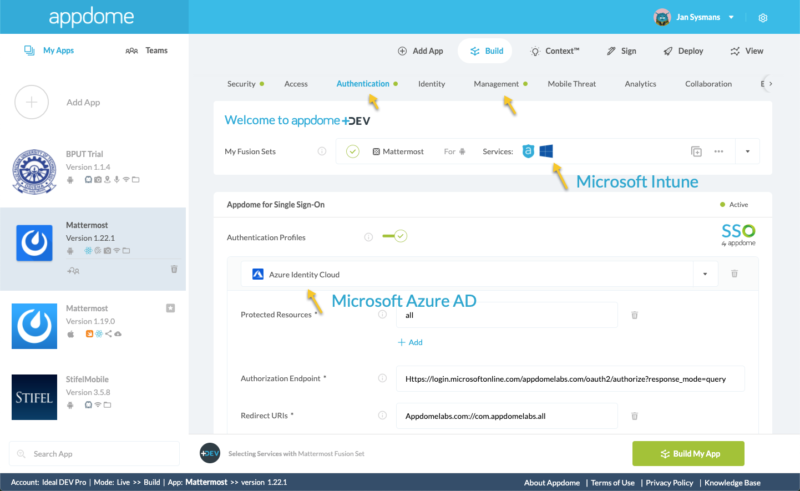 No Manual Coding of SDKs, Ever.
Without Appdome, you'd have to manually code the Intune App SDK and the Azure AD Service into the app's source code or wait for 3rd party app developers to do the work. Also, since the Mattermost app does not have native support for SAML nor OIDC, you would have to code that manually as well. This process is tedious, repetitive, time-consuming (and flat-out impossible if you don't have source code). Appdome solves all these major problems associated with manual integration, enabling anyone to implement SDKs or APIs instantly, with no coding and go from roadmap to reality in minutes.
Change the Way You Do Mobile App Development
Give Appdome a try today. You can create a free account and the just tell us what services you would like to add to your mobile app.