As 2021 draws to a close, we look on to 2022 with nervous anticipation as the Omicron variant throws us a curveball in the next chapter of COVID-19. The singular overarching constant in the way we approach the workplace in 2022 is uncertainty.
It's against that backdrop that I present to you Appdome's Top 5 Digital Workplace Predictions for 2022.
Appdome's Top 5 Digital Workplace Predictions for 2022
The Nature of Work Has Fundamentally Changed – Forever
The ways in which we define and approach 'employment' and execute 'work' have undergone pervasive and fundamental transformations. The nature of work has become more fluid, continuous, flexible and dynamic, affecting the "who, what, when, where, when, and how" we conduct work. For example, work is no longer something we do in a fixed location away from our homes for a defined period of time.
Workers rarely go into an office setting anymore. We work where we live. Major cities like San Francisco have seen huge declines in population as many employees returned to their hometowns as "WFH" became the primary work pattern for knowledge workers and other professionals. We access work resources anytime, from anywhere and, using any device.  Many of these changes are here to stay.
All these trends will force IT and Security organizations to adopt technology solutions that can more closely match the dynamic and fluid needs of their employees, partners, contractors and other constituents.
Organizations Will Increasingly Move to Internally Developed Mobile Workplace Apps
Mobile apps are being used for increasingly more business-critical functions and transactions that generate highly valuable data. On top of this, enterprises are developing new apps that usher in an expanding mobile app estate across a more diverse set of use cases such as sales process, employee enablement, operations, supply chain management, calendaring, and collaboration. Mobile apps are helping companies to get ready for the return to the office scenario where they can leverage mobile apps for contactless activities such as reserving resources, time and attendance tracking, building access, expense reporting, emergency communications, and vaccination tracking apps – just to name a few. And to avoid the expense and complexity inherent with MDM and UEM, companies are looking for ways to bypass their traditional enterprise mobility methods, when rolling out apps company-wide.
In fact, an Appdome study found that 1 in 3 of the Fortune 1000 is building internally facing mobile apps designed specifically for the workplace, and publishing these apps on public app stores (Google Play and Apple's App Store).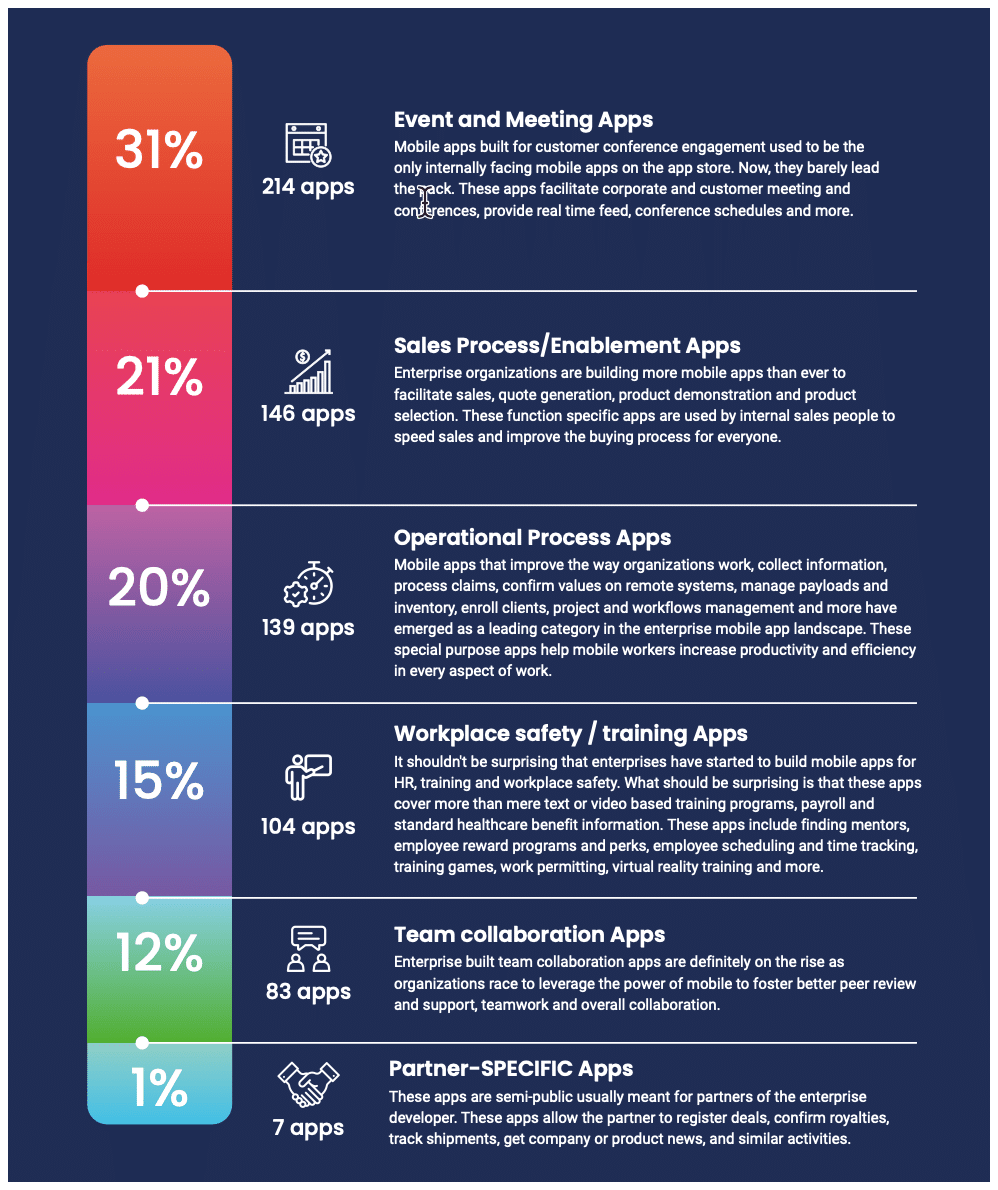 Enterprise IT and Security Will Step-Up Mobile App Security Requirements – Leveraging Automation
Security leaders recognize that mobile apps are the source of more than 60% of all network activity, and must be secured as a top organizational priority. IT and Security departments, who have been historically been more like 'bystanders' in the mobile app release process, are taking a more active role. Using no-code technology and automation, IT and security professionals are now able to embrace and evolve toward the true nature of DevSecOps – where security is automated and is included as an essential part of the app release lifecycle. In fact, security departments perceive increased risk with all the new workplace dynamics and thus will introduce and enforce new security and compliance requirements, pen testing, etc.
Bring Your Own Everything
The surge in remote workers brought on by COVID-19 caused organizations to look to new ways to connect remote workers to protected backend systems on a more permanent basis. And with BYOD as the predominant use case, traditional VPN access and MDM technologies are not flexible enough to accommodate these shifts, especially without making significant tradeoffs on functionality and usability. IT and security teams must adapt to this massive shift towards work-at-home and deliver apps with a 'consumer-like' experience. They need to plan for more agile and lightweight security models to enable a truly mobile workforce at scale – all without sacrificing security.
Mobile Malware Goes Corporate
Mobile malware, trojans, RATs and other types of malicious mobile software will start to become more commonplace in office settings. Given the immense success of malware writers during the pandemic, it's reasonable to believe that such attacks will make their way into corporate environments using similar techniques.
Let's also not forget that mobile malware constantly evolves and adapts itself to exploit the very environment in which it lives. And malware is usually specifically designed to abuse legitimate app functionality and use deception to spread and escalate privileges. My colleague Jan does a great job explaining mobile malware trends in his Top 10 Mobile Banking Trojans piece.
And with that, you have our predictions for 2022. We wish you a very safe and happy holiday season!
As always, feel free to Request a Demo using the button below or reach out directly if you have any questions: alan@appdome.com