We will be at Oktane19 this week demoing Cross-App ID for SSO. And, the response from Okta customers and partners is tremendous. They immediately see the value this has for their mobile workforce.
Cross-App ID Shares Authentication State Between Mobile Apps
Since the release of Cross-App ID, the feedback from customers has been amazing. They love that two or more mobile apps have the ability to share authentication state. Known as cross-app identity, this allows end-users of mobile apps to sign into one app, simultaneously unlocking (i.e., authenticating) the other apps used by that user. Cross-App ID is a component of the Appdome Mobile SSO+ Suite, a set of exclusive Appdome only enhancements to SSO implementations.
What's so amazing about Cross-App ID is that it works between two or more Fused apps on the device. The apps can be from different developers and can be built in different frameworks. They can be native, hybrid or non-native apps. It doesn't matter. There is no need to prepare the app or add any special plug-ins to enable Cross-App ID to work. And, what's even more amazing is there is no need to make any changes to the back-end servers. There is no Appdome code to be installed on the back-end servers; the different back-end servers don't need to talk to each other and they can be hosted anywhere, in the cloud or on-premises. If you think this sounds amazing, you're not alone.
Watch this 2 min end-to-end video to see the power of Cross-App ID.
If you want a more technical explanation, our knowledge base article is a great resource.
Get Started with Cross-App ID for SSO Today
Join us at Oktane in San Francisco at booth EE18. Avoid the line and book your private demo now.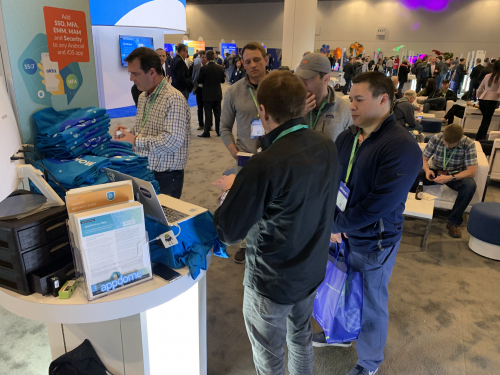 Or contact us for a 20-minute demo.
And, if you're ready to try Cross-App ID with your own apps, you can get started today.