No-Code Mobile Messaging Integration with BlackBerry Messenger Enterprise
These days it seems not much time passes and Appdome announces yet another expansion of the Appdome platform to cover a new mobile service. This week, Appdome dives into the world of CPaaS –  mobile messaging and collaboration, with the launch of Appdome for BBM Enterprise. BlackBerry is a long time Appdome partner and market leader in enterprise mobility. With this new service on the Appdome platform, customers can rapidly integrate Blackberry's enterprise mobile messaging SDK with any mobile app without coding – in less than 2 minutes!

Figure 1: Appdome mobile Collaboration UI (for codeless integration of BBM SDK)
If you're new to Appdome, here's a bit of context on what we do. Appdome's ' no-code' mobile integration platform enables anyone to add mobile services (SDKs & APIs) to existing apps in minutes. Appdome solves key mobility challenges for enterprise developers, mobile SDK providers and ISVs. On Appdome, customers select the mobile services (SDK/APIs) which they want to integrate to their apps (choosing from categories like mobile security, management, identity, analytics, threat defense, and now collaboration). Then simply click the big green "Fuse My App" button, and the platform automatically integrates the chosen services to the app in minutes – just as if a developer had built it natively!  We call this Fusion, the process is 100% codeless. Compare this to manual coding, which can take days, weeks, or months, and the benefits become obvious.
Add BBM Enterprise SDK to your app in minutes
With Appdome's new Collaboration service, customers can enhance any app to experience the enriched collaboration capabilities of BlackBerry's BBM Enterprise SDK instantaneously! On Appdome, customers 'click to implement' the BBM Enterprise SDK on-demand in minutes using Appdome's self-service platform. This no-code mobile messaging integration enables mobile ISVs and enterprises to enjoy the richness, scalability and security of BBM Enterprise SDK with zero friction and zero development effort.
I'm super excited about this new service for a number of reasons.  For one, Appdome's new collaboration category is all about increasing mobile productivity and collaboration (my favorite topics to write about). Secondly, BBM Enterprise SDK is slick! It's incredibly feature rich, easy to use, and now with Appdome it's also simple to implement.
BBM Enterprise SDK – enterprise collaboration at its best
BBM Enterprise SDK is a mobile-native secure communications platform, which delivers integrated messaging, voice and video for iOS and Android apps. As far as mobile messaging & collaboration go, Blackberry's is absolutely in a class by itself. BBM Enterprise SDK is not an 'app' per se. It's a full-blown platform, designed to be embedded inside apps. BlackBerry sells their messaging service to ISVs who want to leverage the BBM Enterprise SDK network with their apps.
The BBM Enterprise SDK is packed with a robust collection of tightly integrated real-time communication services, including voice, video, chat, calendar, click to call, click to chat, click to text, push notifications, group hierarchies, streaming media, and end to end encryption.
How does Appdome add the BBM Enterprise SDK to apps without code?
In the past, developers looking to add BBM Enterprise SDK to apps would have had two major sources of friction to contend with: (1) coding the BBM Enterprise SDK to their apps in source code, and (2) the scarcity of specialized mobile developers that can implement the BBM Enterprise SDK in the app's source code. Appdome eliminates both sources of friction 100%, full-stop.
Appdome's no-code mobile messaging integration requires neither code nor coding to integrate services to apps. On Appdome, anybody can implement BBM Enterprise SDK to apps in one of two modes: (a) In-app mode adds an overlay experience inside any app using BlackBerry's standard UI and messaging functionality.

Figure 2: Appdome 'in-app mode' and BBM UI example
(b) Event mode is the developer option. In event-mode, the developer can configure (by toggling on-off specific messaging features such as push notifications, chat, etc.) the interaction flow between the user and the BBM Enterprise SDK. Event-mode allows the app to use its native UI as the primary interface with the user.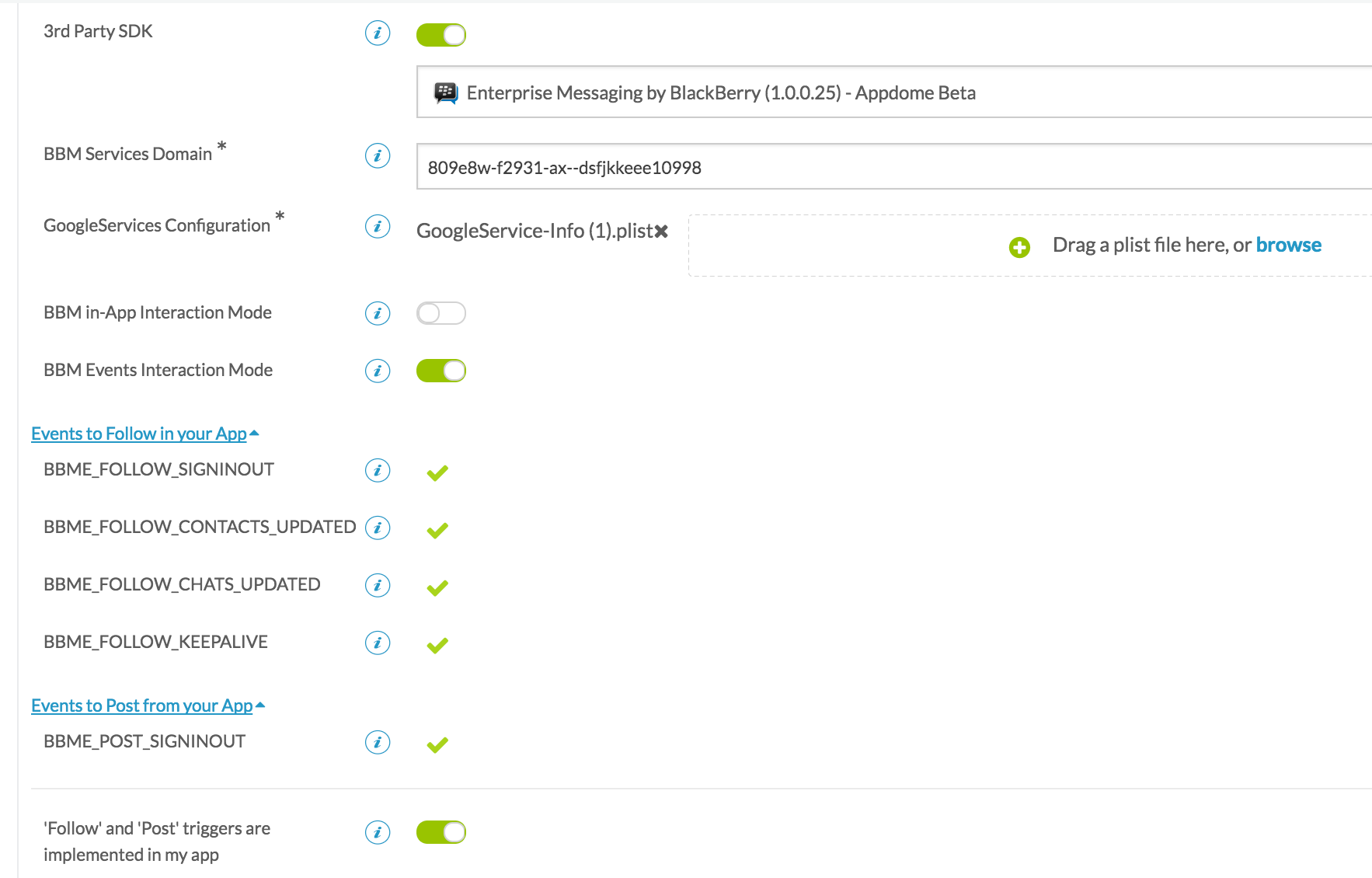 Figure 3: Appdome 'event mode' and BBM UI example
In either mode, users authenticate to the BBM Enterprise SDK infrastructure (which you want for security reasons when using BBM). With Appdome, you can rapidly integrate all the amazing mobile collaboration features from the BBM Enterprise SDK into an app in less than 2 minutes, without coding, and without impacting your app's behavior.
I
mean really, it's almost like having MacGyver living inside your app wiring things up for you!  And because Appdome is 'codeless', ISVs can avoid the burden of manually implementing mobile service SDKs and spend more time on building great apps!
Check out this video to see how simple it is to add BBM Enterprise SDK to any app!
In Conclusion
ISVs or enterprises can use Appdome to rapidly integrate BBM Enterprise SDK into any mobile app in minutes.  Developers and customers can pick and choose from a rich set of voice, messaging, video and collaboration features to create a fully integrated turnkey solution inside an existing app without a development project.
Now that, my friends, is mobile integration so advanced, you might think it came from another planet!  Too good to be true? Check out fusion.appdome.com to take our platform for a test drive!
About the author: 
My name is Alan Bavosa, and I'm the VP of Strategic Partnerships at Appdome. My mission is to find great SDK/API partners and bring their services onto the Appdome platform so customers can enjoy 1-click integrations to any app. If have a mobile SDK or APIs, feel free to drop me a line at alan@appdome.com to learn more about how the Appdome platform can remove friction and complexity to your business, and get your service into the hands of customers faster. For the more 'programmatically inclined' who prefer to deal with machines, feel free to submit your use case or SDK to our partner portal.