Delivering faster mobile outcomes is a critical part of the future of Appdome. I'm incredibly excited to announce the availability of Appdome-GO™ – Appdome's new service to automate the mobile integration life-cycle for Android and iOS apps. Appdome-GO is transformative. It moves us from a no-code, fast, mobile integration technology to a company that delivers complex, repeatable mobile outcomes fast.
Everyone knows Appdome can add mobile SDKs and APIs to Android and iOS apps instantly, with no code or coding. The Appdome technology is so fast, we regularly demo full integrations of multiple SDKs and APIs, from across vendors and user cases in minutes. The value proposition of Appdome as a stand-alone mobile integration system is obvious – easy implementations, guaranteed compatibility and consistent integrations of mobile services to apps every time.
Customers that use Appdome often say – "It's so fast" and "I didn't have to change my app!"  They're right. The technology requires no changes to the app, anywhere or at anytime. Just "Fuse My App," has become the answer to the toughest mobile integration challenges.
With Appdome-GO, we raise the bar (yet again) and take automated mobile integration to a whole new level. Avi, our co-creator and CTO, and I always wanted to offer a high productivity tool-set for the mobile developer, app publishers, and mobile-first organizations. Appdome-GO sits on top of the Appdome platform and is the first high productivity tool-set for this class of user.
The premise of Appdome-GO is to take what Appdome can do for 1-app and amplify the value proposition across every app in a user's account.  To get here, we up-leveled our concept of integration templates, called "Fusion Sets" on Appdome, making templates available at the account level. Prior versions of Fusions Sets were app-specific only. Now, Fusion Sets can be used across apps and services and re-used across any app. They can also be used to combine services into unique integration bundles created by users that apps can "subscribe" to. The goal is as simple as it is profound – complete multiple complex implementations simultaneously across any number of apps. Imagine completing 100s of implementations of your organizations' unique combination of required feature sets –for example, in mobility, security, and identity – with a single click (or no click) in seconds.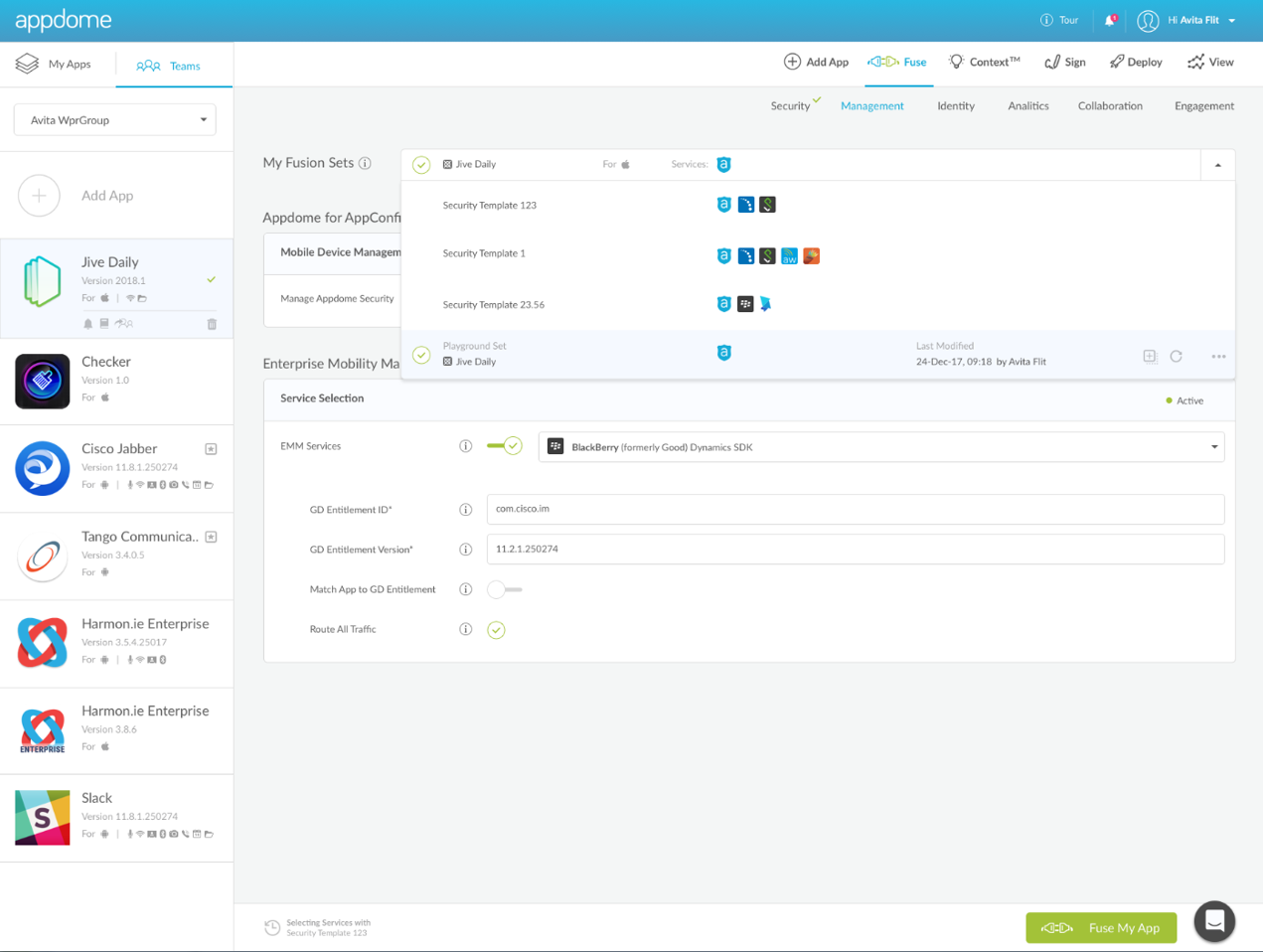 Figure 1: Appdome-GO allows users to create, save and use Fusion Sets across one or more apps on the Appdome platform.
Appdome-GO offers serious developers and mobile organizations the ability to create automated jobs via a Build-to-Publish API and complete end-to-end mobile integration lifecycle directly from app development environments. Inside Appdome-GO, Fusion Sets can be configured with secure mobile app signing and signing verification. Once we did this, we could complete an entire integration automatically. Viola, an entire, automated, end-to-end mobile integration workflow was born.
Give Appdome-GO a try!
For the next 30 days, anybody with an Appdome account will be able to try Appdome-Go for free and provide feedback. After that, Appdome-GO will be available to all customers with an active Appdome-GO upgrade. If you are an existing Ideal or Ideal-Dev Class customer, please contact your Appdome rep to hear more about the Appdome-GO for Customers program for discounts and bundling options.
Thank you and enjoy Appdome-GO!