Appdome is the MuleSoft for Mobile. This was the most common reaction we got at Dreamforce '18. We are very humbled and thankful that so many people understand the value of our patented no-code mobile integration platform and can draw the comparison to MuleSoft.
Why MuleSoft for Mobile?
This is not the first time we've heard the comparison to MuleSoft. Appdome's brand promise is to democratize mobile integration by offering a self-service platform used by anyone to connect any app with any service. Integrating services to mobile apps is not easy. In fact, the degree of difficulty ranges from extremely difficult – to infeasible – to downright impossible in many cases. Why?
Why Is Manual Mobile Integration So Hard?
Mobile apps are built in many different frameworks, which makes integrating services not trivial to say the least. Before Appdome, developers had to manually implement SDKs into apps by modifying source code. Depending on the SDKs and the framework the app is built in, this process could take days, weeks and in some cases months – all without a guaranteed outcome. And we're just talking about apps which developers have source code access to. All bets are off for 3rd party apps, so customers are at the mercy of ISV roadmaps. Not with Appdome.
Appdome Is a Fast, Easy & Guaranteed Outcome
Appdome's patented Fusion™ technology is faster and more efficient than manual integration (coding). Simply upload an app binary (.ipa or .apk), select the services you want to integrate, and click the green 'Fuse My App' button. That's really it.

You can also use Appdome to customize or brand your fused app, and even Sign the app so it can be deployed on any appstore – public or private.  Appdome works seamlessly with internal and 3rd party apps built in native and non-native development environments like Cordova, React Native and Xamarin, and Ionic. There are no plug-ins to manage and you don't need to change the app or your SDK/API. Appdome is instant, easy, and consistent – in other words, Appdome is a guaranteed outcome. Compare that to manual mobile integration, where every implementation is a snowflake, and far from a guarantee.
Our customers tell us they spend many months trying to integrate services to apps manually. Then, after lots of frustration and costly project delays, they're shocked to learn that every integration on Appdome completes in less than a minute – even if you integrate multiple services, from multiple categories and multiple SDK vendors. You complete every integration in less than a minute. Impossible some say. But the proof is in the pudding. Appdome connects Android and iOS apps to external services easily and without coding, it's all easy to test and verify the outcome. Simply fuse an app, deploy it on a mobile device and open it. This is why of the key reasons we made our platform open and accessible to anybody from day 1.
Appdome Makes Mobile Integration Easy
The goal of our no-code mobile integration platform is to make mobile integration easy – delivering choice, flexibility, and agility to enterprises in the process – On Appdome there's no need to code, and you don't need to change or prep apps in advance (Appdome works with all apps out of the box). Finally, Appdome doesn't require enterprises to change their back-end or server side infrastructure. On Appdome all integrations are fast, easy, and completed with a single click. And that's why folks call us the MuleSoft for Mobile.
Looking Back at a Successful Dreamforce
Dreamforce was a tremendous success for the Appdome team. What a great way to kick-off a strategic partnership with the most important SaaS company on the planet. Quoting Mark Benioff, a hui hou to everybody! It was super exciting to hear so many say "wow, Appdome is like the MuleSoft of Mobile" and "Appdome can really help me with my mobile security, enterprise mobility and enterprise authentication (SSO, MFA) projects". Thank you!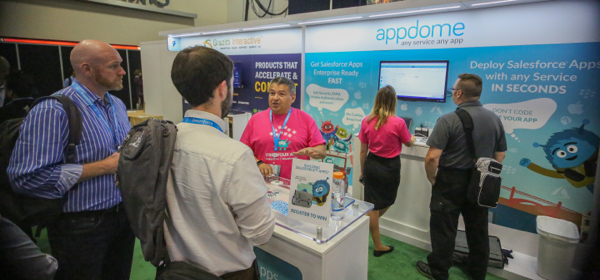 Dreamforce attendees learned that with Appdome's no-code mobile integration platform, anyone can solve challenging mobile integration use cases instantly – no-code or coding required. With Appdome, you get:
Several customers freely shared their success stories at our booth. The excitement you share and the ongoing support you give are very important to us. Thank you! You are what drives us, day-in and day-out.
Test Drive Our No-Code Mobile Integration Platform
In October, we'll be at the BlackBerry Security Summit in New York and Oracle OpenWorld in San Francisco. We hope to see you at one of these shows and demonstrate why Appdome is the MuleSoft for Mobile. Having said that, there's no need to wait. You can start your free trial today and and be Fusing like a pro in no time!