Getting Started with Appdome
This article provides step-by-step instructions for getting started on Appdome. Create your account and start building & securing apps without coding!
Mobile development, security, and IT teams often collaborate on mobile integration projects.  It's great for them to be able to use a mobile integration platform that supports the different features and entitlements they can use in mobile apps.
We hope you find this knowledge base useful and enjoy using Appdome!
Appdome
Appdome's is a unique, patent-pending, mobile integration automation technology that allows an authorized user to point, click, and integrate any external feature set(s) to one or more mobile apps in minutes (sometimes, seconds).  Mobile App Fusion is offered exclusively via the Appdome platform.
Using Appdome, there are no development or coding prerequisites. For example, there is no Appdome SDK, libraries, or plug-ins to implement.
Appdome is compatible with mobile apps built in any development environment including Native Android and iOS apps, hybrid apps and non-native apps built-in Xamarin, Cordova, and React Native, Ionic, JavaScript, and more. This streamlines implementations, cuts development work, and ensures a guaranteed and consistent integration to any mobile app.
How to Sign Up for Free to Appdome
Follow these step-by-step instructions to navigate to Appdome's Platform and get started:
Fill in the information requested for your account
Create a password
Choose your country
Enter a Promo Code (if you have one)
Prove you are not a robot 😉
Click 'Sign Up' and you're good to go!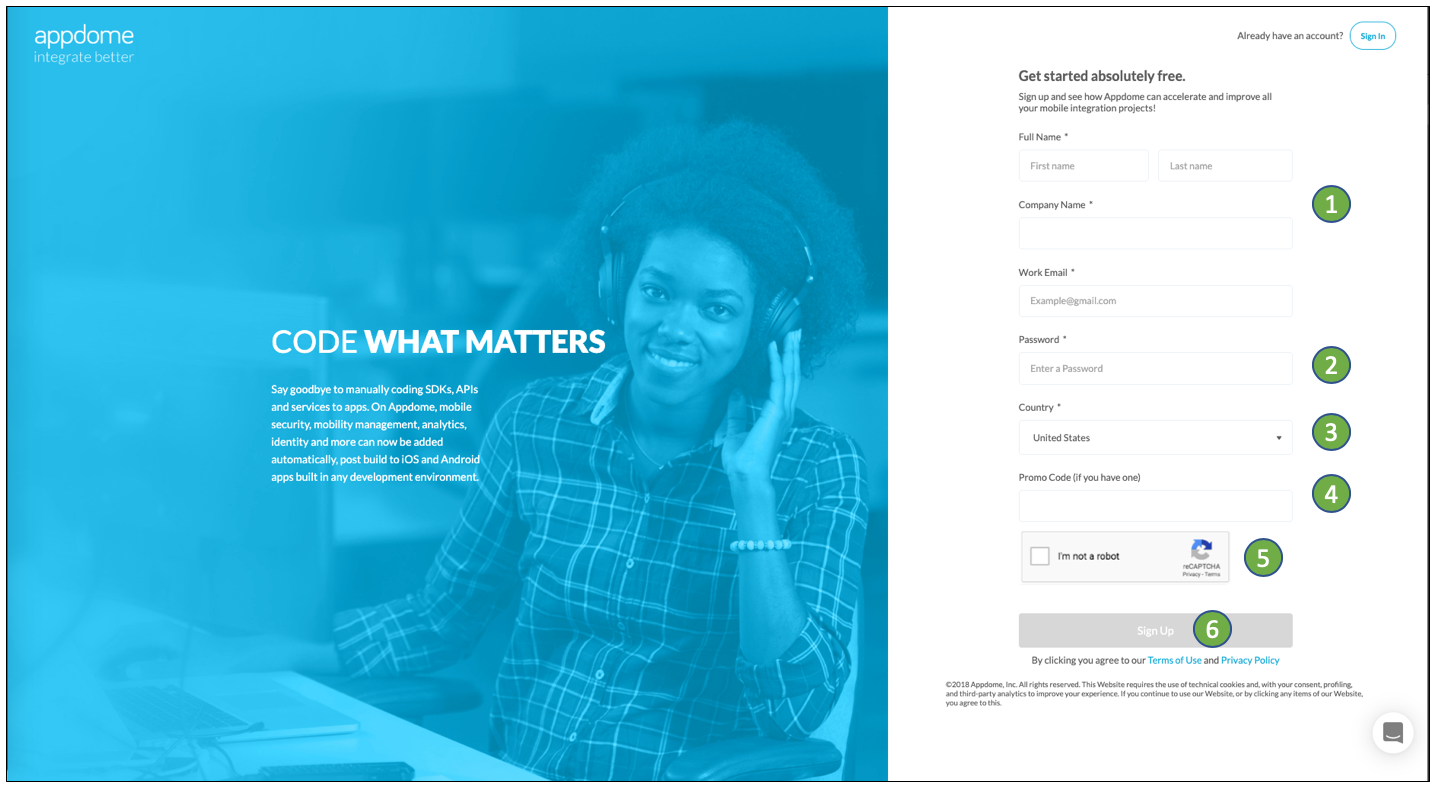 Congratulations – Now you can explore the appdome platform and build our demo apps with your desired features.
Want to try it on your own mobile apps? no problems! Click here to request a free trial.
How Do I Learn More?
Check out Appdome's platform, work with other users in a team or request a demo at any time.
If you have any questions, please send them our way at support@appdome.com or via the chat window on the Appdome platform.
Thank You!
Thanks for visiting Appdome! Our mission is to make mobile integration easy. We hope we're living up to the mission with your project. If you don't already have an account, you can sign up for free.