How To Block Static Analysis of Android & iOS App Features
Developers can block static analysis tools from reverse engineering the features of their mobile apps on Appdome without code or coding. Static analysis tools extract the design of the application without running it, just inspecting its contents (see the article that explains what constitutes the contents of an iOS and Android application). This Knowledge Base lists 3 Easy Steps to Block Static Analysis of Android & iOS App Features. Stop reverse engineering of your mobile apps. No Code, Zero Dev, No SDK. Appdome's Anti-Reversing capabilities, a key component of ONEShield™ by Appdome, which gets automatically added to every app as part of the Fusion process.
We hope you find it useful and enjoy using Appdome!
What Does Block Static Analysis of Android & iOS App Features Protect?
Appdome's Anti-reversing counters and stunts reverse-engineering efforts done by static analysis tools on your application.
As mentioned earlier, Anti-Reversing gets added automatically to every application as part of the fusion process. So your built app will be protected against malicious reverse-engineering attempts automatically.
Anti-Reversing will do the following, depending on the platform:
iOS: All the selector references in the application's main executable get obfuscated. This takes away one of the reverse engineers' most useful tools – the cross-reference search.
Android: Any plaintext strings appearing in the DEX files (Java/Kotlin) will be obfuscated.
These are the basic measures Appdome takes to make sure an attacker has to resort to other techniques such as tampering and debugging. Both of which are protected by Appdome's Anti-Tampering and Anti-Debugging. This three-pronged defense gives an all-around effective hardening for your mobile app.
3 Easy Steps to
Block Static Analysis of Android & iOS App Features
Follow these step-by-step instructions to add Anti-Reversing to any mobile app:
Upload an Android or iOS App to Appdome's no code security platform (.apk, .aab, or .ipa)
In the Build Tab, under Security, Select ONEShield 

(shown below)

Click Build My App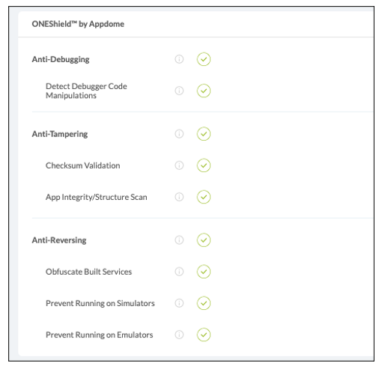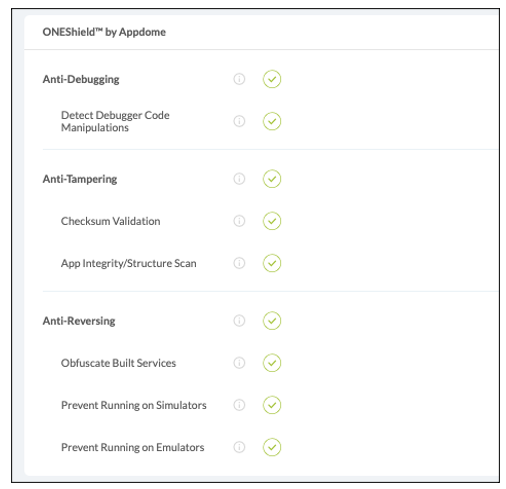 Appdome's no-code mobile app security platform offers mobile developers, DevSec and security professionals a convenient and reliable way to protect Android and iOS apps with anti-reversing. When a user clicks "Build My App," Appdome leverages a microservice architecture filled with 1000s of security plugins, and an adaptive code generation engine that matches the correct required plugins to the development environment, frameworks, and methods in each app.
Prerequisites for Blocking Static Analysis
Here's what you need to build secured apps with anti-reversing:
No Coding Dependency
Using Appdome, there are no development or coding prerequisites to build secured apps that block static analysis tools. There is no SDK and no library to manually code or implement in the app. The Appdome technology adds anti-reversing and the relevant standards, frameworks, stores, and logic to the app automatically, with no manual development work at all.
How to Sign & Publish 
Secured 
Mobile Apps Built on 
Appdome
After successfully securing your app using Appdome, there are several available options to complete your project, depending on your app lifecycle or workflow. These include:  
Or, see this quick reference Releasing Secured Android & iOS Apps built on Appdome. 
More No-Code Block Static Analysis Tools Resources

Anti-Reversing is just one protection measure and synergies well with Appdome's Anti-Debugging and Anti-Tampering.
If you are interested in protecting your app, check out Appdome ONEShield, a suite of app protection features. You will find TOTALCode in particular to be a very powerful enhancement to the reverse-engineering protection already supplied by Appdome's Anti-Reversing.
If you have any questions, please send them our way at support@appdome.com or via the chat window on the Appdome platform.
Thank you!
Thanks for visiting Appdome! Our mission is to make mobile integration easy. We hope we're living up to the mission with your project. If you don't already have an account, you can sign up for free.