How To Prevent Tampering of Android & iOS Apps
Anti-tampering is one of the key protections developers can add to mobile apps to prevent mods and unauthorized code changes in their Android & iOS apps. Learn how to implement anti-tampering protection in any Android and iOS app instantly on Appdome, no coding required.
This Knowledge Base explains Appdome's Anti-tampering capabilities, a key component of Appdome ONEShield™ app hardening/shielding.
What is Tampering?
According to Cambridge Dictionary Tampering is the illegal act of touching or making changes to something when you should not" ). Learn how to add anti-tampering for mobile apps in your Android and iOS apps without code or coding.
What Does Prevent Mods and Code Changes in Mobile Apps Protect?
Mobile Anti-Tampering is part of Appdome ONEShield (mobile app hardening). Whenever you build an app on the Appdome platform, the platform automatically adds Anti-tampering to the app (as part of ONEShield).  Tamper prevention protects your app against unwanted changes, mods, and hacks – all without adding development work or time to your release cycles.  This is done by sealing your app and actively detecting modifications during initialization AND at multiple other points during run-time (whenever the app is being used).
Mobile Anti-Tampering protects against the following static and dynamic modifications to the application:
Resigning the application
Attempting to Modify the Appdome adapter
Modifying the application's executable
Repackaging the app
Moving the application's sandbox under the name of a different package
As a result, you prevent mods, code and workflow changes in mobile apps. It goes without saying that any modification that impacts the application in a bad way (deleting files) will also damage the built application.
3 Easy Steps to Prevent Tampering of Android & iOS Apps
Follow these step-by-step instructions to prevent mods and code changes (Anti-Tampering) to any mobile app:
Upload an Android or iOS App to Appdome's no code security platform (.apk, .aab, or .ipa)
In the Build Tab, under Security, Select ONEShield 

(shown below)

Click Build My App
Anti-Tampering (Prevent Mods, Code and Workflow Changes) has added automatically to every application as part of the ONEShield™ bundle to every app built on Appdome.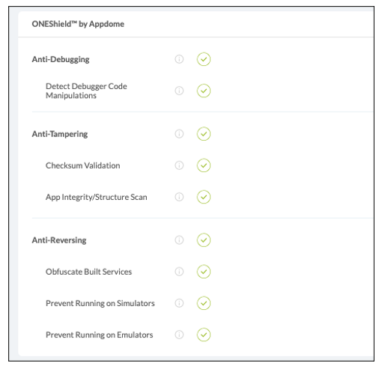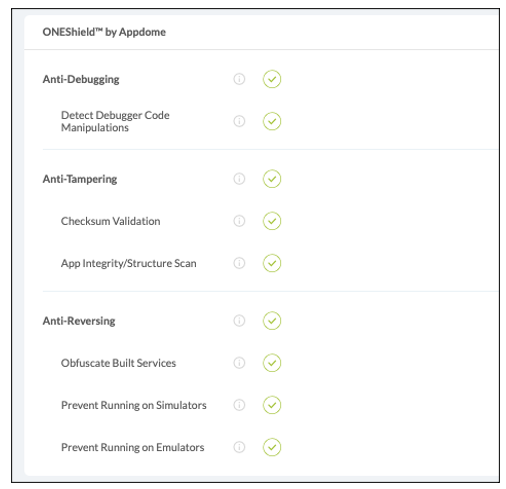 Appdome's no-code mobile app security platform offers mobile developers, DevSec and security professionals a convenient and reliable way to protect Android and iOS apps with anti-tampering. When a user clicks "Build My App," Appdome leverages a microservice architecture filled with 1000s of security plugins, and an adaptive code generation engine that matches the correct required plugins to the development environment, frameworks, and methods in each app.
Prerequisites to Prevent Tampering of Android & iOS Apps
Here's what you need to build secured apps with anti-tampering
No Coding Dependency
Using Appdome, there are no development or coding prerequisites to build secured apps with anti-tampering. There is no SDK and no library to manually code or implement in the app. The Appdome technology adds anti-tampering and the relevant standards, frameworks, stores, and logic to the app automatically, with no manual development work at all.
How to Sign & Publish Mobile Apps
Secured with Anti-tampering. 
After successfully securing your app using Appdome, there are several available options to complete your project, depending on your app lifecycle or workflow. These include:  
Or, see this quick reference Releasing Secured Android & iOS Apps built on Appdome. 
How to Learn More
Anti-Tampering is just one protection measure and synergizes well with Appdome's Anti-Debugging and Anti-Reversing.
If you are interested in protecting your app, check out Appdome ONEShield, a suite of app protection features.
If you have any questions, please send them our way at support@appdome.com or via the chat window on the Appdome platform.
Thank you!
Thanks for visiting Appdome! Our mission is to make mobile app security easy. We hope we're living up to the mission with your project. If you don't already have an account, you can sign up for free.